About & Contact
About & Contact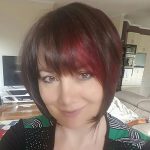 Jen Katemi (aka Jennifer Lynne) writes short contemporary romance, sometimes sensual, often erotic, and occasionally with paranormal elements. When she's not writing, Jen is working in the admin day job, looking after the family, pampering various cats, and trying to find a smidgen of time for her husband. She lives in Melbourne, Australia.
CROSSING THE LINE is her debut title with Evernight Publishing, and her debut title as Jen Katemi. A match made in heaven!
Sign up for Jen's e-newsletter to be in the running for regular giveaways, and ensure you never miss a new release from either Jen or Jennifer!
Contact Jen via email:
Find Jen Katemi on the web: