Hellhound Protectors Book 3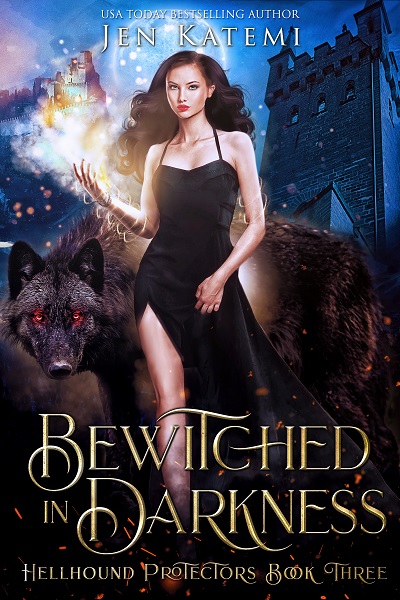 Buy now from your favorite retailer
My magic is steeped in darkness…and yet the only thing now standing between my coven sisters and the fallen angel hunting us, is celestial magic born of the light.
Sapphire's witch magic has always held an edge of darkness, which is why she lives in solitude—to avoid hurting those she loves. But now her sister and cousin are in peril, and it is up to her to draw on her dark magic to save them.
With hellhound shifter Caden by her side, the task shouldn't be impossible. And yet, facing down a Fallen and his demon followers unleashes far more within Sapphire than she ever knew existed.
Celestial magic—powerful and uncontrolled—now courses through her veins. And if she can't learn how to harness and control the light magic, she might end up killing everyone she loves, not only in the human realm, but everywhere.
A dark and edgy paranormal fantasy romance series, perfect for fans of K.F. Breene, Linsey Hall, Dannika Dark and Jaymin Eve.
Read BEWITCHED IN DARKNESS for the thrilling conclusion to the HELLHOUND PROTECTORS trilogy!
~~~
Author's note:
This series is set in the same world as the BLOOD FAE CHRONICLES series. Read both, and enjoy!
HELLHOUND PROTECTORS:
Bewitched in Blood
Bewitched in Dreams
Bewitched in Darkness
BLOOD FAE CHRONICLES:
Banshee Cry
Banshee Song
Banshee Power
Banshee Quest: Renna's Curse