Seducing Her Prince
Seducing Her Prince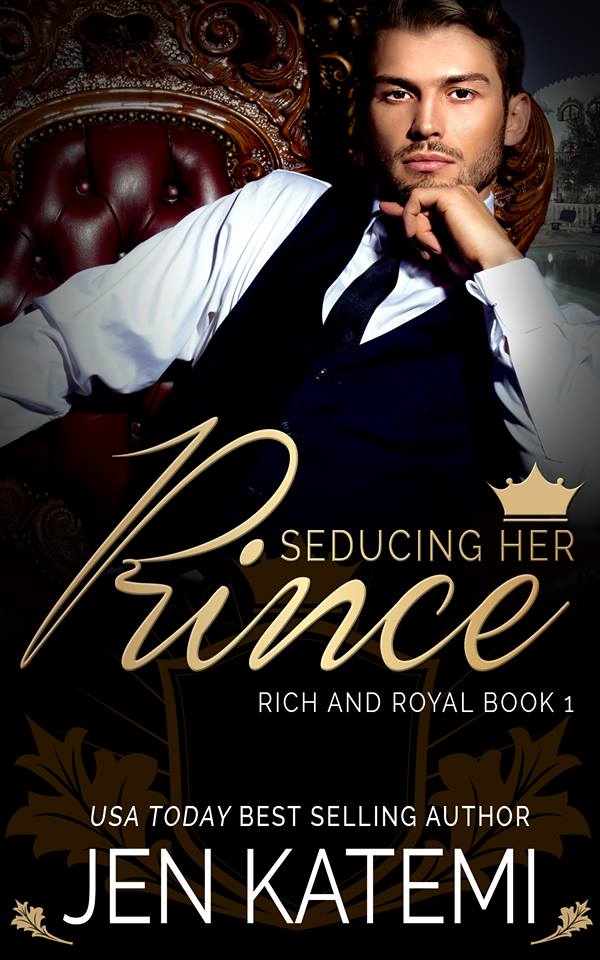 AVAILABLE NOW:
US readers – AMAZON  /  IBOOKS  /  BARNES & NOBLE  /  KOBO 
Non-US readers – please find your favorite book retailer here
Find on BookBub
Find on Goodreads
Sometimes lust and love collide. And sometimes, betrayal can destroy everything.
The moment Kasper lays eyes on Eleni, attraction flares between these polar opposites. As Crown Prince, Kas is used to taking whatever he wants, and this enigmatic seductress with a mysterious past is there for his pleasure. Whenever and wherever he dictates.
Eleni has never experienced anything as strong as the passion that burns when Kas holds her in his arms. Her secret should prevent her from taking what he gives, and yet the lure of desire is too powerful to resist.
When hidden treachery is exposed, the truth threatens everything Kas and Eleni hold dear. Will love win out against duty, or will the fiery struggle for power destroy it all?
SEDUCING HER PRINCE is the first in USA Today bestselling author Jen Katemi's RICH & ROYAL series about hot royals, steamy scandals and the heady lure of desire. Each story is connected and yet designed as a stand-alone, and the series can be read in any order.
Excerpt
Eleni

Ripples. Cast one stone, and it seems like the ripples fan out for miles in every direction. Even after you've turned and walked away from the water's edge. Even after you've gotten in your car and driven halfway across the country to escape the consequences. The ripples continue to spread from that one, tiny little stone.

That's my life. Casting stones, and then speeding away as the ripples reach ever outward in a series of never-ending, usually destructive, circles.

I don't want to cast any more stones. I've had enough. This latest job will be my last; I'd already decided that before receiving the briefing notes last night, but now… even more so. There's something about this one that doesn't feel right. I can't put my finger on it, but something is off. As soon as this assignment is over I'll be gone. I know how to disappear. Mama and I did it often enough when I was young and I'm a lot more knowledgeable about the ways of the world now than I was when I was eleven.

My mind instantly shears away from dangerous memories and I try to concentrate once again on the text message containing final instructions about when, where and who.

It's okay. I can do this. Focus on the job.

Crown Prince Kasper Devon Leoni III. A mouthful of a name, that's for sure. I've never even heard of the kingdom of Leonioro. Somewhere in the Mediterranean region perhaps, judging by the Italian-sounding name and place. What the hell is a European prince doing down here in Melbourne, Australia?

Does it matter what he's doing? Not to me. At least, it shouldn't. I have my instructions, and starting tomorrow, I'll be on the clock and on the job. Again, a strange niggle in my belly makes its presence known. Anxiety? Foreboding? I can't tell what's causing this skittish feeling, but after all these years I trust my instincts. The urge to run begins to take over my thoughts.

Definitely time for Eleni Mikaro to disappear once and for all. I nod, even though I'm alone in the apartment and there's no one to see or respond. "Last one." I say it aloud, just because I can. "Yes. Damn it, yes." Definitely my last, this time. No more clients after this week. No more throwing stones.

(copyright 2018 Jen Katemi)
~~~
Want to find out if bad boy prince Davide has any chance of redemption? Read more in Book 2 – PROTECT AND OBEY. Buy a copy here.
And of course, Princess Isabella's story is coming soon in Book 3 – PRINCESS PERFECT. Find out more or preorder a copy here.