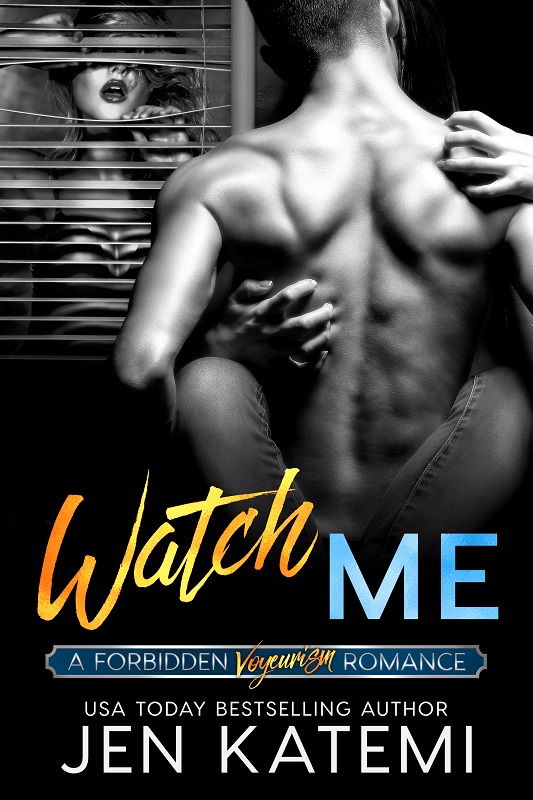 Available now from your favorite retailer:
Isabel and her sexy neighbor play an erotic game of voyeurism, but when Izzy's husband Will discovers her Sunday night secret the tables turn and the watcher suddenly becomes the watched.
"I was so afraid, when my husband uncovered my dirty little secret. Afraid that he'd hate me, or think me disgusting, or somehow be completely turned off. Equally scared that this watching game I play with our sexy neighbor might be shut down for good. Can Will bring himself to join our addictive Sunday night ritual, or will I be forced into an impossible choice between the man I love, and the sexual urges that consume me?" ~ Isabel
WATCH ME was previously published in the Not Vanilla series. This version has an updated cover and series name.
Excerpt (Adults-only)
I can't get enough of watching him with another woman… The way he grips the back of her head so firmly when he draws her close to kiss her parted lips. The way his fingers disappear somewhere beneath the thick waves of her hair—a chestnut color tonight and only slightly lighter than my own.

I love the way he sucks on her bottom lip first, nibbling gently as if sampling her flavor before committing properly to the kiss.

Yes. Kiss her like that, until the flare of passion becomes fully ignited and you suddenly slam your groin into hers. Force her legs apart with one of your powerfully muscled thighs so she can ride you hard and that kiss becomes deeper and less controlled.

I'm starting to pant as I touch myself between the legs, my fingers circling my bud and teasing it out from between the folds now engorged with the heat of desire. But it isn't enough. He's grinding against her and she's doing the same back to him. There's nothing between them but a few pieces of clothing and soon those impediments will be ripped away, too.

I want that feeling of hard grind. I need it. I miss it.

(copyright Jen Katemi)
Be tempted by the forbidden! Check out the other Forbidden Series novellas below.