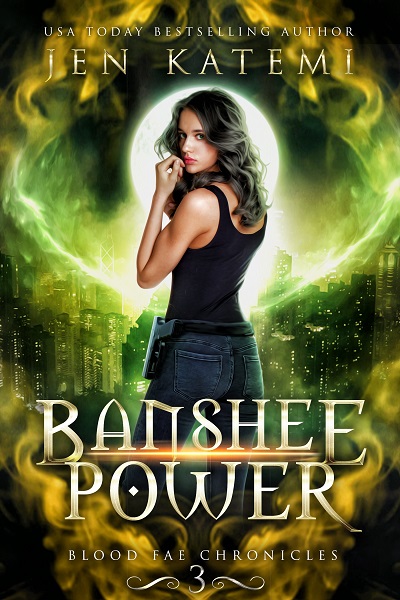 Preorder now – available January 18th, 2021
She is determined to ignore her banshee power… until the magic she despises becomes the only thing standing between death, and life, for herself and everyone she cares about.
Inspector Maewen Jones of the Supernatural Police Division is tough, uncompromising, and focused on being the best human detective she can be. Her banshee half is a curse, not a blessing, and she tries to forget that part exists at all.
When a Fae prince — heir to the Winter Court of Faerie — turns up in her office in the human realm with information about her latest case, Maewen can no longer ignore her magic.
This unlikely pair must work together to bring down a deadly foe threatening chaos and darkness to both the human and Fae realms.
Mae and Rhodri's passion might heat up the night, but Rho celebrates all magic as a gift. He cannot understand why any Fae – whether hybrid or full-blood — would want to deny their own heritage.
The Fae prince and the half-human detective will have to dig deep to find the strength to face the darkest battle, not only against a vicious enemy, but to conquer their own hidden demons that the darkness brings to the fore.
BANSHEE POWER is the third and final book in the BLOOD FAE CHRONICLES trilogy. If you enjoy the complex characters and unique stories of Donna Grant, and the paranormal action and sizzling romance of Rebecca Zanetti or Dannika Dark, then this is the series for you!
The BLOOD FAE CHRONICLES paranormal romance series features faeries, humans, vampires, shifters, witches and other creatures of the supernatural realm. The series is set in a world full of magical realism and steamy desire, and each story delivers a happy-ever-after ending. The series is best read in order.
BLOOD FAE CHRONICLES series:
Book 1 – BANSHEE CRY
Book 2 – BANSHEE SONG
Book 3 – BANSHEE POWER
Reviews for Book 1:
"The characters are well developed and engaging had had me turning the pages as fast as I could."
"This book was so good I can't wait for the next one!"
"First book by this author I have read but wont be the last. Loved her writing style."
"Characters were well written and the storyline was exciting and full of action. Read in one sitting."