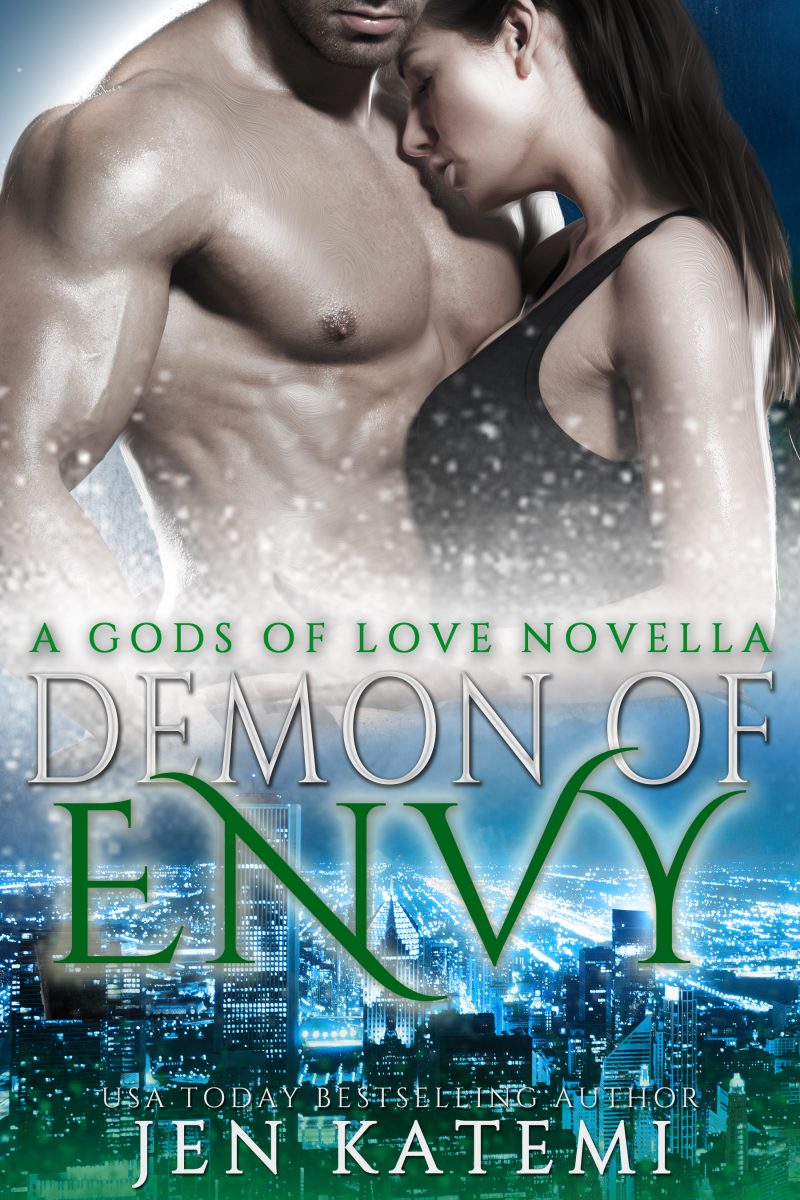 Available now from your favorite retailer:

What's a mortal girl to do when the man of her dreams appears on the doorstep… and it turns out he's a fallen immortal trying to claw his way back toward a state of grace?
Thon holds the petty jealousies and passions of all mortals in his heart. In the beautiful yet damaged Olivia he may finally have found his savior, but his lover's very presence incites the demon inside to escape.
How can the Greek god of envy possibly protect a mortal woman from the grim darkness of his own reality?
"Oh, Liv. If I love you, I might kill you."
Contains adult sexual content suitable for readers 18+ only.
Want to read this one first in the series? Go ahead! Each of the GODS OF LOVE novellas isstand-alone with a common theme. They can be read in any order.
Reviews for DEMON OF ENVY
"I love this delightfully sexy, amazingly beautiful book. This author has a wonderful way of digging into human emotional states and revealing our inner turmoil and darkness in a way that is liberating…Love love love it." ~ 5 love bites at Love Bites and Silk Ties
"Short, sweet, hot, clever, romantic and really sexy…Loved it!" ~ 5 stars at Sexy Books Blog
"A seductive and provocative storyline…" ~ 4 stars at The Reading Cafe
Excerpt
The need to engulf her with everything raging inside flooded over him with such force he went deathly-still. Get it under control. The darkness was too all-consuming, and she couldn't withstand him if he lost it. She was so delicate and easy to break, despite that elusive core of inner strength, and he had to remember at all times to hold himself back.

She was human. She was fragile. And she was about to become his if he could only control his demon long enough to keep her safe.

He shucked off his T-shirt and threw it to one side before moving forward to take over for her fumbling fingers. "With pleasure." Remember. Do it slowly.

He managed to release two more of the tiny buttons before a waft of her perfume teased his nostrils. It was a musky scent that reminded him of hot nights and seductive need, so long-forgotten that its sudden effect on his senses blasted his self-control to pieces. With a groan that rattled his throat on the way out he grabbed the two sides of her blouse and yanked them apart, the remaining three buttons flying off in all directions with a ripping pop, pop, pop.

"Oh!" Her gorgeous mouth formed into a round of surprise. He clutched at her wrists before she could cover her breasts, then released them slowly when he felt her peak of embarrassment begin to subside.

"No! Don't ever cover yourself when you are with me. I must look at you." She was solidly proportioned, with more flesh than was the current fashion, judging by what he'd seen in his brief time back here. But he liked it better when there was something substantial to hold onto.

His fingers trembled as he traced around first one large globe then the other. Her skin was so white he could see the blue network of veins peeking through from beneath. Her life force, so close to the surface. So tantalizing.

(Copyright Jen Katemi)
About the erotes
DEMON OF ENVY is the fifth story in my series of stand-alone novellas with the erotes as a common theme. Yes, they can be read in any order, so if you want to try this one first, please do!
Who are the erotes?
In Greek mythology there are many versions from which to pick and choose, and researching the erotes was no exception. The most popular belief seems to be that the erotes were a group of winged gods who were the children of Aphrodite, the Greek goddess of love and sexuality who was born from the foam of the sea. The Greek god Eros was either their father or one of their brothers.
Another belief, and the one that resonates best with me, is that the erotes were in fact different aspects of the primal god, Eros. Erotes is the plural of eros (desire), and I am fascinated by the idea that love is so complex it must be personified across several beings.
While the erotic author in me applauds the idea of the greatness of Eros, I also love the idea that his power, and therefore that of the erotes, stems primarily from a woman—the Olympian goddess Aphrodite (sometimes called Venus in Roman mythology).
Thus the concept of the GODS OF LOVE series was born—stand-alone novellas that can be read in any order, but that also share a common theme.
While the first four novellas in the series focus on the erotes (Pothos, Himeros and Anteros) and their mother, the goddess Aphrodite, Book 5 introduces the black sheep of the family. Phthonos (Thon) is the god of envy and jealousy, brother to the erotes and wayward son of Aphrodite. After a lengthy banishment from the world of mortals he has been given one last chance to make up for the mistakes of his past. But is Thon more demon than god? And if the demon Envy wins out, how will this lonely god ever find room in his heart for love?