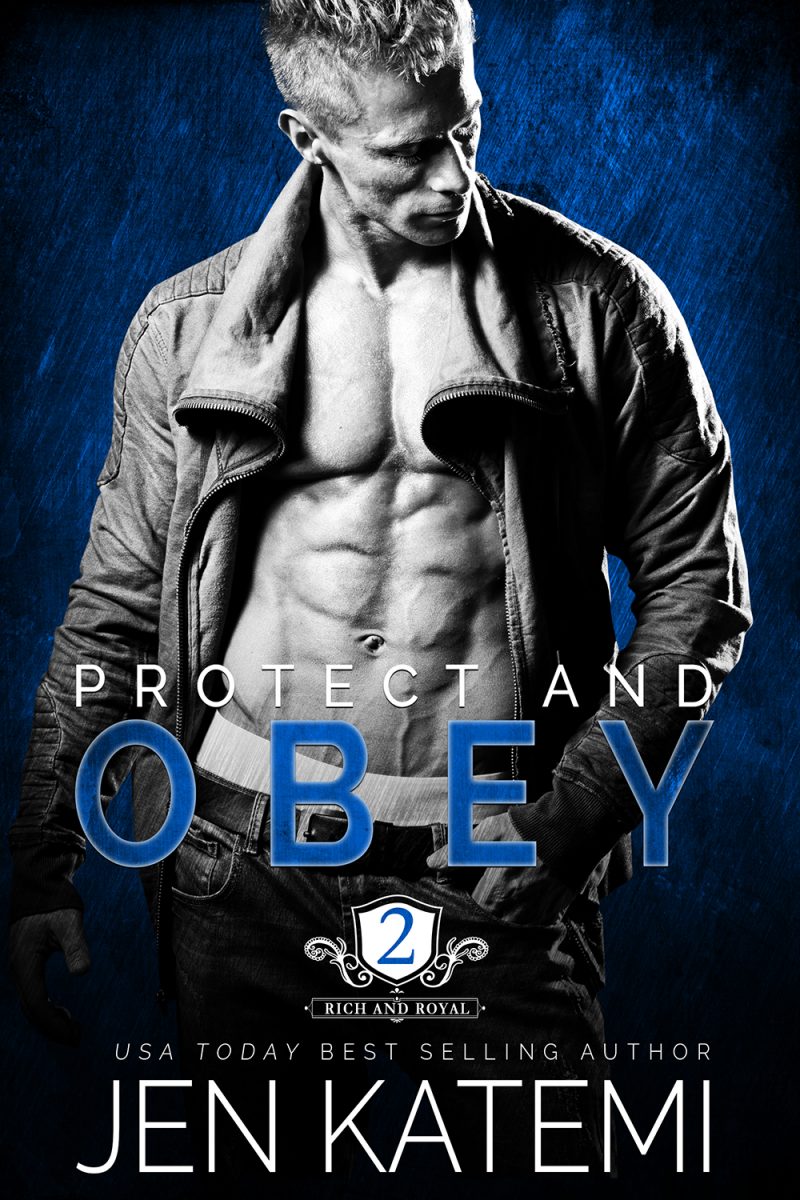 Available now from your favorite retailer:
A bad-boy prince in need of protection… and the woman who'll protect, but never obey.
His reluctant bodyguard
I'm a loyal, disciplined, deadly weapon.
I'll never be bested by a playboy prince.
His selfish betrayal earned the ire of his kingdom—now someone wants him dead.
I should despise this reckless royal. But I've seen behind the mask.
His savage smirk hides a wounded boy begging to be loved.
Their forbidden love…
I've mixed business with pleasure and paid the price—with my job, my heart and almost my life.
I refuse to repeat my mistakes.
But his honeyed words and soul-searing touch shatter my resolve.
This damaged prince holds my fragile heart and I'll fight to keep them both safe.
Can Cat place her trust in this reckless royal? Can Dav ever believe he's worthy of her love?
Discover a world of danger, drama and dizzying romance in the Rich & Royal series by USA Today bestselling author, Jen Katemi.
These steamy contemporary romances featuring billionaire royals and their rocky road to love are connected yet designed as stand-alone stories which can be read in any order.
Grab your copy now!
Note: Protect and Obey contains references to adult themes including PTSD.
Excerpt
Dav's gaze rakes me up and down. "You look good in a suit. Almost manly. Especially with your hair scraped back off your face like that. You just need a bow tie to finish it off."

It's all I can do not to growl out loud. The man is unbearable. His grin is wide and wicked, and I glare up at him from beneath my lowered lashes. He knows I'm miked up and the rest of my team can hear every word of our exchange. Bastard.

"Sir." I manage not to grind my teeth too hard between words. "Aren't you late? Shouldn't you be up front already, supporting your king? Better move along and do your brotherly duty."

I don't need to hear the sharp inhale of breath in my ear piece from the guard at the next station. I know I've overstepped the mark. My cheeks heat uncomfortably, but far from showing anger, Dav's grin unexpectedly widens further. "Naughty, naughty, Miss Catriona. I shall have to think of a suitable punishment for you. Later. After I've done my brotherly duty, of course."

He saunters off and I'm left with a myriad of churning emotions that have nowhere to go. Then a gravelly voice in my ear piece says, "I'll need a word with you too, Catriona. Report to me after your shift." Jason is not pleased, and I don't blame him one bit. I've just behaved in a completely unprofessional manner. As easy as it would be to blame Dav's successful niggling, I'm an adult not a child, and it's up to me to ignore the prince's goading, not rise to it.

I bite my bottom lip and shuffle my feet, standing straighter and staring ahead. I need to concentrate on the task at hand, and not let my mind keep wandering to what sort of punishment Dav might have in mind for later.

(Copyright 2019 Jen Katemi)
~~~
Want to see where it all began with King Kasper and Queen Eleni? Read more about SEDUCING HER PRINCE, the first book in the RICH & ROYAL series, here.
And of course, Princess Isabella's story is out now in Book 3 – PRINCESS PERFECT. Find out more here.