Protect and Obey
Protect and Obey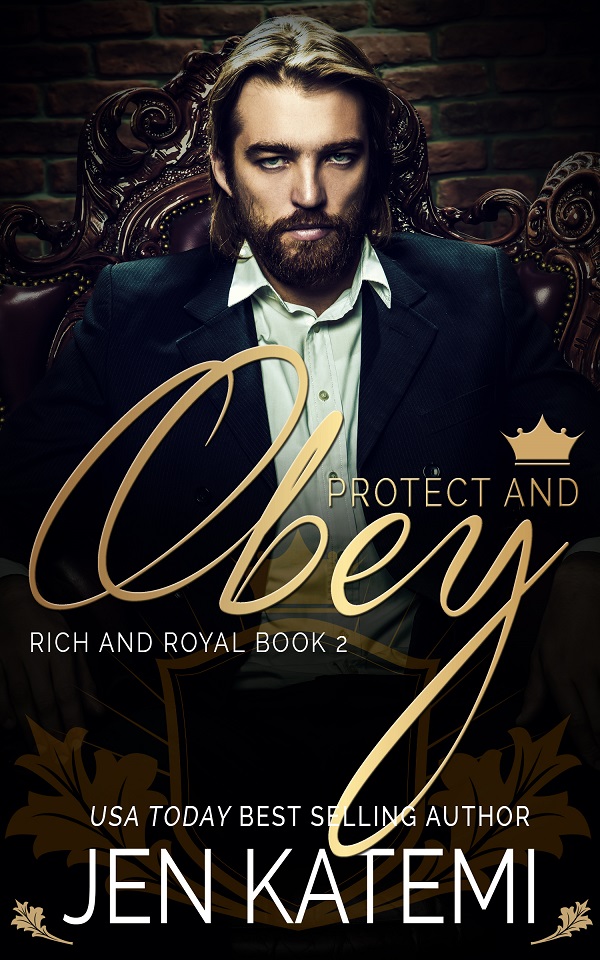 AVAILABLE NOW:
US readers – AMAZON  /  IBOOKS  /  BARNES & NOBLE  /  KOBO 
Non-US readers – buy from your favorite book retailer here
Find on BookBub
Find on Goodreads
Blurb
Catriona: Dav might be a prince, but he's still a bastard. Not the kind where mama had him out of wedlock, but the "I screwed over my brother and tried to take his crown" kind of bastard. Yeah, that kind. The kind I ought to hate.
So why am I letting him get close enough to affect me this way? Why does my body crave his touch, when everything inside is screaming the exact opposite?
Run, Cat. Run. 
Davide: Cat is nothing like my usual kind of lover. I need a woman I can be proud to show off to the family, and then tame her into submission in the bedroom. I need anyone but my new bodyguard, Cat. 
So why can't I stop obsessing over a woman who clearly thinks I'm worth less than the dirt on her scuffed ex-Army boots?
Maybe I should bed her anyway. Scratch the itch. Get these wild thoughts of her out of my system for good.
Come, Cat. Come. 
A sizzling new stand-alone romance in the Rich & Royal series by USA Today bestselling author, Jen Katemi.
Excerpt
Dav's gaze rakes me up and down. "You look good in a suit. Almost manly. Especially with your hair scraped back off your face like that. You just need a bow tie to finish it off."

It's all I can do not to growl out loud. The man is unbearable. His grin is wide and wicked, and I glare up at him from beneath my lowered lashes. He knows I'm miked up and the rest of my team can hear every word of our exchange. Bastard.

"Sir." I manage not to grind my teeth too hard between words. "Aren't you late? Shouldn't you be up front already, supporting your king? Better move along and do your brotherly duty."

I don't need to hear the sharp inhale of breath in my ear piece from the guard at the next station. I know I've overstepped the mark. My cheeks heat uncomfortably, but far from showing anger, Dav's grin unexpectedly widens further. "Naughty, naughty, Miss Catriona. I shall have to think of a suitable punishment for you. Later. After I've done my brotherly duty, of course."

He saunters off and I'm left with a myriad of churning emotions that have nowhere to go. Then a gravelly voice in my ear piece says, "I'll need a word with you too, Catriona. Report to me after your shift." Jason is not pleased, and I don't blame him one bit. I've just behaved in a completely unprofessional manner. As easy as it would be to blame Dav's successful niggling, I'm an adult not a child, and it's up to me to ignore the prince's goading, not rise to it.

I bite my bottom lip and shuffle my feet, standing straighter and staring ahead. I need to concentrate on the task at hand, and not let my mind keep wandering to what sort of punishment Dav might have in mind for later.

(Copyright 2019 Jen Katemi)
~~~
Want to see where it all began with King Kasper and Queen Eleni? Read more about SEDUCING HER PRINCE, the first book in the RICH & ROYAL series, here.
And of course, Princess Isabella's story is coming soon in Book 3 – PRINCESS PERFECT. Find out more or preorder a copy here.