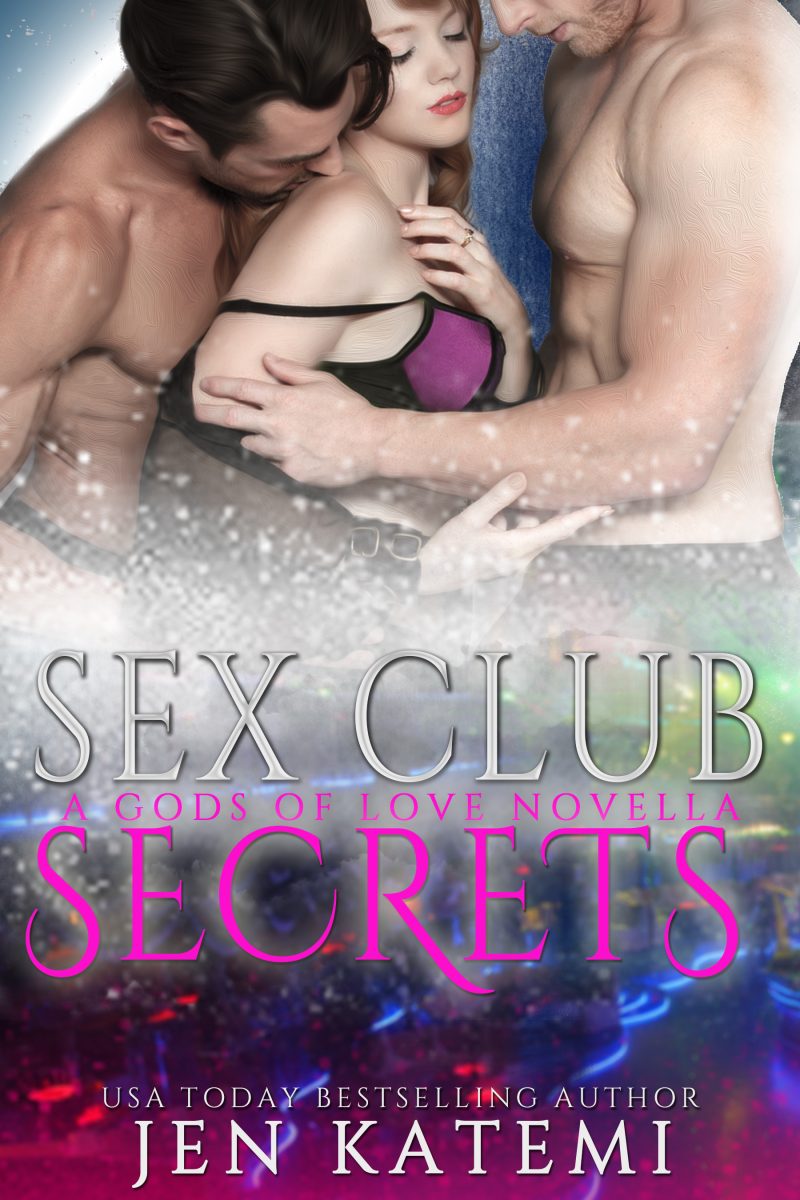 Available now from your favorite retailer:
Add to your Goodreads shelf
When you're turning thirty and the love of your life doesn't see you as anything more than a friend, that's a good enough reason to accept an invitation to a notorious sex club. Isn't it?
Ella doesn't know who sent her the invite to Secrets, but she's about to find out just how far she's willing to go to satisfy her innermost cravings.
Kade can't believe the woman he is beginning to see as more than a friend decides to visit a sex club on her thirtieth birthday. He follows her inside and witnesses her at play with the enigmatic Anteros, a sexy god-like man who seems to know exactly how to satisfy Ella in ways Kade can only dream about.
But Anteros also feeds the hidden desires within Kade. How can he finally admit his true feelings for Ella when he's not sure he can commit with his whole heart?
Can Anteros show these would-be lovers that friendship can sometimes be the best place to kick start a lasting romantic relationship? A steamy friends-to-lovers menage romance with a hot immortal alpha hero and a guaranteed happy ending.
Want to read this one first in the series? Go ahead! Each of the GODS OF LOVE novellas is stand-alone with a common theme. They can be read in any order.
Reviews for SEX CLUB SECRETS
"What else can I say about this little story except HOT, HOT, HOT! These three characters come alive on the page…" Divas of Desire
"It is no secret that I love menages and SEX CLUB SECRETS is a prime example of why." BadBarb's Place
"…a fresh angle and her writing style kept us turning the pages…her erotic descriptions are sensual. Passionate but gentle at the same time." Quality Reads UK Book Club
"…a story of secret fantasies, passionate sex and the loneliness of one god whose only wish is to be loved and wanted-for himself." The Reading Cafe
Excerpt
"Suspend your disbelief, Ella. Anything is possible at Secrets, tonight."

Suspend disbelief? I can do that. She closed her eyes for a moment. Need grew, intensified…Kade…

"If your lover were here right now, what would you want from him? From this…Kade?"

Had she spoken his name out loud? She must have. "I don't know."

"Yes, you do." He was close enough now that his words whispered across her temple, disturbing the shorter tendrils of hair around her face. "Look into your heart. Tell me."

She shivered and glanced back at the large viewing window with its heavy drapes drawn to each side. "I want…"

"Do you wish the curtains closed before we begin? I am amenable to that, if it is your wish."

"No." She looked hard at the glass, not having realized until this moment that it was one-way. A whole football team of people could be out there, observing them, and she would have no idea. Instead, her reflection stared back at her, pale and ethereal-looking, her newly blonde hair long and wavy rather than frizzy-looking for once, the whiteness of her limbs an interesting counter-point to the powerful darkness of Anteros standing behind her. Even with five-inch heels on, he topped her by a good six inches, and she wasn't short to start with. They looked good together, she realized. Dark and light. Strength and delicacy.

I feel different already. No more flat-chested beanpole. I feel…kind of sexy, for a change.

Time for truth. She took a deep breath. "I wish that Kade were here, watching me right now. Watching us, wanting us, while we do things here in this room that I've never done before." She leaned back into Anteros as he let go of her hand and traced up her arm with his fingertips before heading across to her left breast. He paused for a second at the peak, rolling his thumb over the hardened nub, before dipping below to hover near her rapidly beating heart. "I want him to see me in a new way. I want him to want me, the way I've always wanted him. I want him to love me, the way I—"

"Ella." Anteros pulled her away from the mirrored window and dipped his head in toward her throat. A caress like butterfly wings tickled her skin along the edge of her collar bone. "Shall we assume he is there, and he is watching, and give him a show the likes of which he will never forget?" His words vibrated against her and need grew in her belly. "Shall we punish him a little, or maybe quite a lot, for making you feel so lonely, all these years? Shall we do that, right now?"

"Oh, yes, Anteros. Please, yes."

(Copyright Jen Katemi)
About the erotes
SEX CLUB SECRETS is a menage novella in the GODS OF LOVE series. These stand-alone stories with the erotes as a common theme can be read in any order. If you want to try this one first, please do!
Who are the erotes?
In Greek mythology there are many versions from which to pick and choose, and researching the erotes was no exception. The most popular belief seems to be that the erotes were a group of winged gods who were the children of Aphrodite, the Greek goddess of love and sexuality who was born from the foam of the sea. The Greek god Eros was either their father or one of their brothers.
Another belief, and the one that resonates best with me, is that the erotes were in fact different aspects of the primal god, Eros. Erotes is the plural of eros (desire), and I am fascinated by the idea that love is so complex it must be personified across several beings.
While the erotic author in me applauds the idea of the greatness of Eros, I also love the idea that his power, and therefore that of the erotes, stems primarily from a woman—the Olympian goddess Aphrodite (sometimes called Venus in Roman mythology).
Thus the concept of the GODS OF LOVE series was born—stand-alone novellas that can be read in any order, but that also share a common theme.
Aphrodite's influence will be evident throughout the GODS OF LOVE series. In SEX CLUB SECRETS, my celebration of the ancient Greek gods of love features Anteros, who represents the dual aspect of both requited and unrequited love.