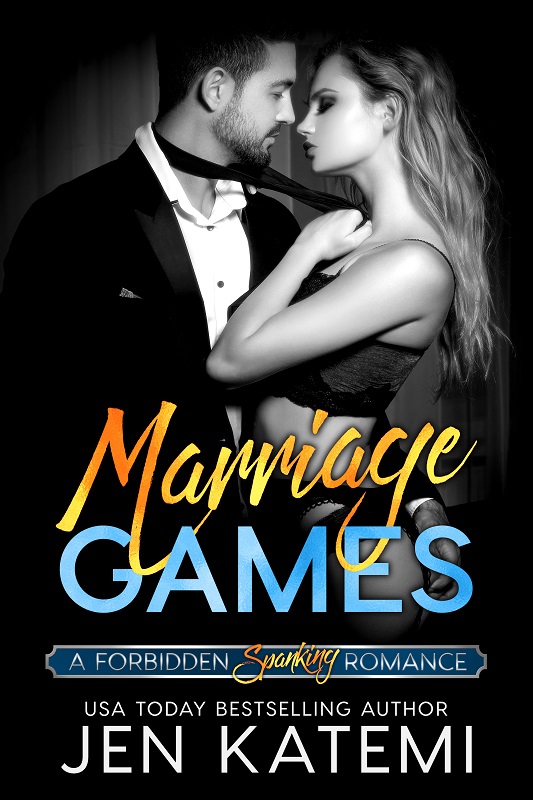 Available now from your favorite retailer:
On their anniversary weekend away, will a spanking paddle help re-kindle Grace and Henry's waning libido, or will this married couple's first kinky time also be their last?
"When I suggested a weekend away to rekindle the flame of our fifteen year old marriage, I had no idea Henry would take it as an opportunity to bust out the credit card at our local sex shop. But now I'm sitting in this country cottage on Saturday night, surrounded by nothing but forest for miles in every direction, and staring at my husband holding the spanking paddle as I wonder if I really have the nerve to bend over and let him use it." ~ Grace
MARRIAGE GAMES was previously published under the title, FIRST TIME, in the Not Vanilla series. This version has an updated cover, title and series name.
Excerpt (Adults-only)
The firm smack on my bottom comes out of nowhere and I lift my head, yelping at the sudden sting. "Ow! Henry!" It's more surprise than pain, though. I wasn't quite ready. Just as I begin to relax he does it again, and then again, each stroke becoming stronger as if he's testing out how far he can go with his punishment.

Each time he does it my whole body jerks in reaction. I try to stay still, but it's hard when there's a burning pain being delivered across your rear and you can't anticipate when the stroke will arrive. I grit my teeth, trying to pre-judge his actions, even though he's not consistent with the blows. To make things more difficult, Henry's other hand is sandwiched deep between my legs, exploring fingers caressing my inner thighs and brushing against my swollen labia lips with a tenderness that belies the spanking message.

Punishment. And pleasure. The twin sensations send conflicting signals to my brain. "You're messing with my head, love." I manage to gasp the words after one particularly hard smack, which he follows with a light dance of fingertips deep into my seam. I'm damp with sweat and desire, and it's an easy glide for him up and down my slit.

"Good. I want you messed up, Grace. I want you so messed up you don't care what we do to each other. I want you to forget convention, and I want you to remember…" One of his fingers reaches up into my vaginal channel, and another is toying with my anus. He's never touched me in the latter spot before, and it feels so damn good.

"Remember what?" My voice is throaty and I can hardly get the words out.

"Remember who you really are."

(copyright Jen Katemi)
Be tempted by the forbidden! Check out the other FORBIDDEN SERIES novellas below.