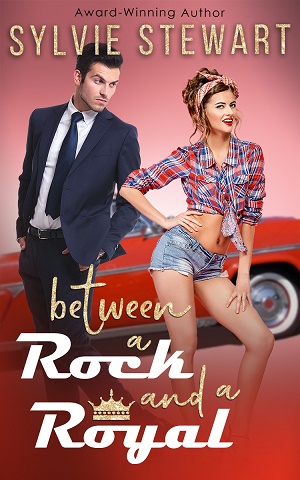 Today I'm delighted to feature another of my fellow authors from the ROYAL AND RECKLESS BOX SET. Sylvie Stewart is addicted to romantic comedy and contemporary romance – what a great combination! And what a great book cover for BETWEEN A ROCK AND A ROYAL! Can't wait to read this contribution to our multi-author box set.
Welcome to the blog, Sylvie. Can you share a little about your journey to publication?
Thanks, Jen! I must have started writing a dozen books by the time I was in college (which are so painful to read now – LOL). Then life moved on and I didn't think about it much until I hit my forties and my kids started school. I'd just put down the fifth book in a row that I couldn't bring myself to finish reading. I was frustrated that I wasn't finding any satisfying reads (I just happened to be in a rut at the time—I know the world is filled with tons of fabulous books. Unfortunately, none of them were on my Kindle at that moment). I sat down at my computer and figured I'd take a crack at writing a book I'd love to read. Everything took off from there and it's been better than I ever expected!
What authors do you like to read?
I have a special love for Kristen Ashley. I want to have her babies. She writes in so many different sub-genres that there is always a book of hers that fits my mood. I also love how she does her own thing, regardless of what anyone might say.
Do you have a favourite genre in books (to read and/or to write)?
Romantic Comedy all the way!
Do you have a favourite character in your books?
That's so hard. It's usually whoever I'm writing at the moment, but Fiona from my Carolina Connections series holds a special place in my heart. And she's the most fun to write—that's why she keeps cropping up in all the other books, I guess.
What makes a great romance hero?
I love the guys who show some vulnerability. The whole cocky alpha thing can be really hot, but I love it when a hero opens himself up.
What makes a great romance heroine?
I love a woman who gives as good as she gets!
What is the nicest thing a reviewer has ever said about one of your books?
This one is hard too! But this review is a definite favorite: "Fun, fulfilling and fast-paced, Sylvie Stewart's latest book, The Spark, is also a masterclass in how to write a strong, sexy heroine with a hint of vulnerability that a reformed playboy hero simply can't resist." ~ After the Rain Comes Sunshine Blog
Tell us about your upcoming title in the ROYAL AND RECKLESS Collection.
My book for the ROYAL AND RECKLESS Box Set is called BETWEEN A ROCK AND A ROYAL. It's really fun, steamy, and sweet all at once. Ruby is a North Carolina girl who likes wearing heels and working on cars, and she's unfailingly loyal to her family—which gets her in a jam. Leo is a prince visiting the U.S. with his brother, and the two of them end up on an adventure that puts them in Ruby's path. Sparks fly between Ruby and Leo, but they're both keeping secrets. I love the chemistry between those two! Here's the blurb:
Two foreign princes, one local girl in a serious jam, and a '65 Mustang headed for Georgia. What could go wrong?

LEO: My brother likes to think he's the clever one, and I usually let him. He's the crown prince, after all. But he's cocked things up royally this time, pardon the pun. It will take some quick thinking and a heavy dose of luck, but I'll pull us out of it. Even if it means putting my trust in a stranger … a tempting stranger who carries a wrench and an attitude.

RUBY: I knew before I even agreed that this would be a bad idea. But given my circumstances, I had little choice but to take these two rich country-club rejects up on their offer. A ride in exchange for the money my uncle and I owe. How bad could it be? I'm sure I'll survive and hopefully fix my problems in the process, but my heart might not be so lucky.
Sounds great! What appeals to you about writing a story featuring a royal?
I actually never planned on it. Most of my books are about "regular folk." But it's been a fun departure—so much so that another book featuring Leo's brother is in the works!
Why do you think readers love stories featuring royals?
Let's face it—most people who read romance have seen Prince Charles and Lady Diana's wedding more than once. And the fact that they got divorced hardly even matters! It's the fantasy. If we actually knew any royals, we probably wouldn't be interested in reading romances about them – LOL
Excerpt from BETWEEN A ROCK AND A ROYAL
Mister Awkward had officially left the building and Prince Charm-Your-Panties-Off was back and getting down to business.

I'd been going back and forth in my mind about how far I wanted to take things with Leo, but I eventually decided to go with the horny part of my brain that rationalized he'd already been all up in my lady bits, so I may as well check out the other ways Leo Baxter could rock my world.

He was off to a killer start. His warm, demanding lips collided with mine and I didn't hesitate to wrap both arms around him and pull him in. He was back to the white t-shirt and jeans and his feet were bare, a small detail that I found both adorable and sexy. I never really thought I had a type, apart from my misguided foray into bad-boy land, but Leo's whole sexy-nerd thing was doing it for me big time.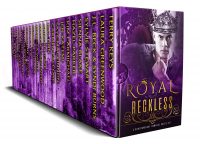 The ROYAL AND RECKLESS COLLECTION, containing BETWEEN A ROCK AND A ROYAL, is available for pre-order. It's only 99 cents (USD) for 23 steamy royal books, so please check it out here.
Want to learn more about Sylvie Stewart? Connect at her website, Facebook or on Instagram.