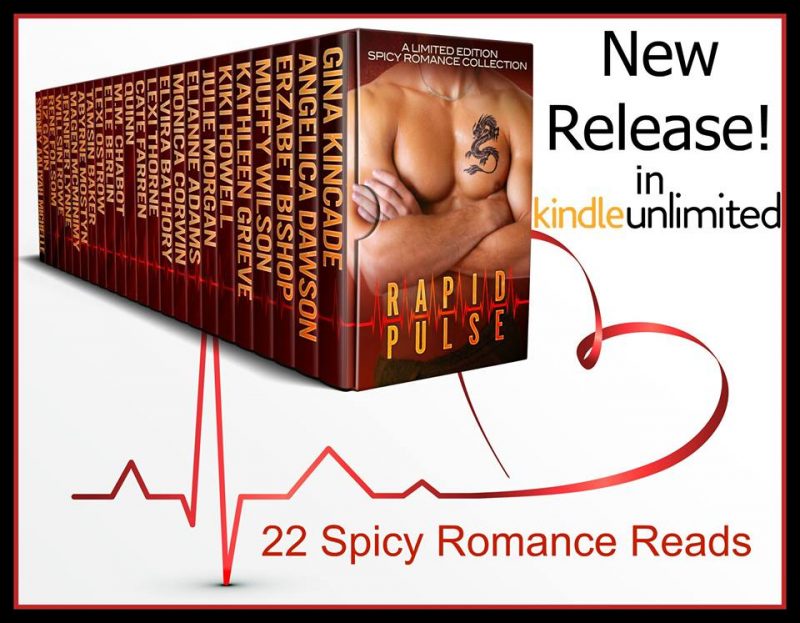 Yes, I'm delighted to announce another new release for my alter ego, Jennifer Lynne! It's my fifth new release since the beginning of August, and there are more to come over the next couple of months. Loving it!
Today is release day for RAPID PULSE, a multi-author collection featuring 22 sexy stories crossing a range of romance genres. All are designed to raise your pulse, and all offer either a happy-ever-after or happy-for-now ending.
The RAPID PULSE Limited Edition Spicy Romance Collection includes BREAKING THE RULES, a brand-new Jennifer Lynne ménage romance, and the latest in the popular Forbidden series.
For more information about BREAKING THE RULES, or to read an (Adults-only!) excerpt, please visit my Jennifer Lynne blog here.
RAPID PULSE Blurb
Featuring New York Times, USA Today, and International Bestselling Authors, Rapid Pulse is a sizzling, diverse collection of hetero and same sex romance reads crafted to launch your heartbeat into high gear and drive your senses wild.

This collection's hot and sexy alphas know just how to send your pulse rate rising. Grab something cool and click now to dive in.
Available now or read #FREE in Kindle Unlimited
Amazon US     Amazon CA     Amazon UK     Amazon AU
Want to keep up-to-date with new releases by Jen Katemi and Jennifer Lynne? Sign up for my newsletter here.