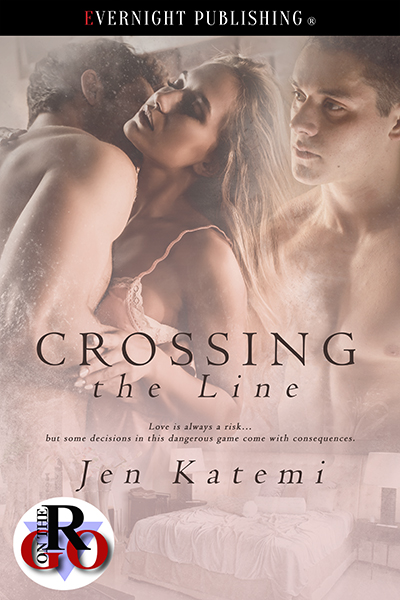 It's release day for my first title as Jen Katemi, and my first with Evernight Publishing. CROSSING THE LINE, a ménage romance that pushes the boundaries within a loving yet troubled marriage, is part of Evernight's Romance on the Go line. I'm delighted to confirm it is also an Editor's Pick. What a way to start this exciting new journey!
Blurb
Love is always a risk…but some decisions in this dangerous game come with consequences.

Tam – I'd do anything to keep my wife Julia happy…until her proposal for a sexy ménage tryst threatens everything I thought I knew about us, and our relationship.

Julia – I adore my husband Tam, but in this dangerous high-stakes game am I risking too much for the future of our marriage?

Dominic – Tragedy took my wife and left me in a shattered mess. I've been running from commitment ever since, until Tam and Jules reach out. There's no denying the chemistry that flares between us, but has our night of kinky threesome sex pushed us just that little bit too far?

Sex. Love. Marriage. A ménage gamble puts everything on the line.
Buy at Evernight – 25% off during release week (Aug 8th – 15th) 
Excerpt
For some reason I expected them to feel the same. I mean, physically. Two guys, with hard-ons. And yet they don't. My husband's physical presence is comforting. Just right. Dominic is more heavily muscled, so firm that it seems almost impossible to cuddle in to him, and yet when he curves around me like that our bodies seem to fit. Also just right.

Tam leans up on one elbow and stares down at me and Dominic immediately does the same.

"Okay, Jules?" Tam's eyes are darkened, intent, checking no doubt for regret. He won't find it in my expression or features. Sandwiched between the two of them like this, I've never felt more safe or protected than I do at this moment.

I reach up and caress his cheek. "More than okay, Tam."

Then I turn to Dominic to include him in this request. "Please, gentlemen, kiss me again."

They immediately comply, and once again I'm transported to that magical place where sensation is everything and my brain stops functioning rationally for a while. The slip and slide of lips, and questing tongues, darting in and out of moist heat, is everything I could have hoped for. I give in to the exquisite sense of loving and being loved. It's like every cell in my body is suddenly wide awake and screaming with exhilaration. With life. With the need for blessed release. I love this kiss.
(Copyright Jen Katemi 2017)
Want a copy? Of course you do! 😉
Buy at Evernight – 25% off during release week (Aug 8-15th)