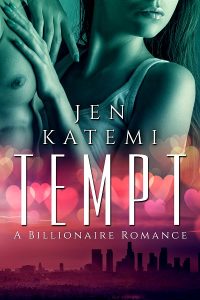 Today marks my eighth anniversary as a published author, so I'm extra pleased that today is also release day for my twentieth title – steamy contemporary romance novella, TEMPT. This sexy story about a billionaire and his former lover reconnecting for a second chance at love has already received loads of praise from advance reviewers at Amazon and Goodreads:
As soon as I read the first chapter I was totally hooked.
This is the most exquisite story I ever read. I felt the throb of emotions so deep it was like a vein.
I really enjoyed the characters, could not put it down.
I read it in one sitting, needing to see how it all ended. Terrific read!
A feel good story you shouldn't miss!
If you like second chance billionaire romances this is a must read.
TEMPT is on sale for a few days only at the special price of 99 cents (65% off). Grab your copy now before the price goes up next week! Here's the blurb:
A sexy billionaire. An old flame. A second chance at love.

Billionaire playboy Ryley Jaxx always gets what he wants and right now, the only thing he wants is Kallie. Too bad this stubborn blast-from-his-past is not willing to play along.

Kallie Smith is back in Ryley's life for one reason only…and it has nothing to do with the rampant attraction she still feels for her long-ago teenage friend.

The future of her volunteer program is at stake without continued funding from Ryley's company. Can Kallie convince this hedonistic man that there's more to life than having fun? Or will the temptations of her past arise once again to tear their lives–and their hearts–into pieces?

Previously appeared in the multi-author box set, FALLING FOR THE BILLIONAIRE. If you enjoy steamy romance, alpha billionaires, second chances plus happy-ever-after endings, this novella is for you.
TEMPT is $0.99 only until Dec 9th (regular price $2.99). Buy at:
Curious where it all began? My very first title back in Dec 2009 was SEDUCING SERENA, and it appeared (as Jennifer Lynne) in the Red Sage Secrets Erotic Romance Collection (Volume 28). Yes, the collection is still available – check it out on AMAZON.