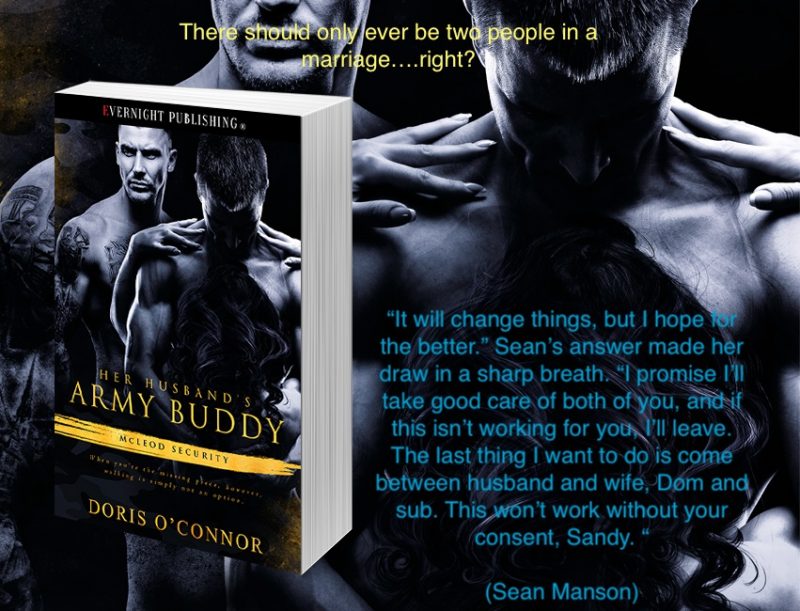 Today I'm happy to share my friend Doris O'Connor's latest Evernight Publishing release. Her Husband's Army Buddy is the first in a new series called McLeod Security. Over to you, Doris…
Like so many of my stories, this one started as a flash on my blog. Little did I know then, that it would evolve into a series. When I expanded the flash, it was to be a short story in honor of one of my reader's birthdays. The Sandy in the story 🙂
As I wrote it took on a life of its own, side characters popped up demanding their story to be told, and hey presto, a new series was born. All stories will be stand-alones, loosely connected through McLeod Security, some darker than others, with different pairings and D/s dynamics, and familiar characters will pop up throughout.
Her Husband's Army Buddy
There should only ever be two people in a marriage…

Sandy McLeod has been perfectly happy in her D/s relationship with her husband Zane for the last ten years. Until his old army buddy re-enters their life.

Sean Manson is altogether too handsome, too virile, far too much of anything. The man oozes dominance, danger, and leashed aggression, and Sandy can't help but respond to him. Neither can Zane. He walked away from Sean once. Now, he's back, long suppressed feelings bubble to the surface and cannot be denied. When Sandy agrees to a threesome, happiness seems within their grasp. Sean's demons, however, threaten to destroy everything they hold dear.

Sean never meant to come between husband and wife, let alone hurt either one of them. Surely, the only solution is to walk away from them both. When you're the missing piece, however, walking is simply not an option.

Be Warned: menage sex (MMF), anal sex, BDSM, m/m sex, sex toys, double penetration
Available from:
Evernight  Amazon  Amazon UK  Amazon CA  Amazon AU  Nook  Kobo
​ i-Tunes  Bookstrand
Short Excerpt (Adults-only)
"We need to get her out of this dress, Sir."

Hearing her husband address Sean like that gave her a secret thrill, the likes of which she wouldn't have thought possible. To know that she was at the mercy of two Doms, one of which was an unknown entity made this whole thing extra exciting. Whether it was the perceived danger Sean represented, the not knowing how far he would take things, her befuddled brain couldn't quite figure out. She stopped thinking altogether when Zane unzipped her dress at the back, followed by the snap on her bra and slid his hands around her ribcage to cup her freed breasts.

"Let her go a minute so we can lose these contraptions." Zane's grumbled command pitched her need even higher.

Sean stopped kissing her, the pressure on her wrists ceased, and in the next instant she was naked, barring her soaked through thong, hold-up stockings, and the heels she still wore.

"F*ck, you're beautiful." Sean's deep voice showed his admiration of her body as much as his perusal of her as he stepped back and let his hot gaze roam all over. "Spread her for me, so that I can look my fill of our sweet c*nt."

The dirty words turned her on almost as much as her husband's immediate response.

"Your wish is my command, Sir."
About Doris O'Connor
Doris is a writer of sensual, sassy, and sexy tales involving alpha heroes to die for, and heroines who give as good as they get.  From contemporary to paranormal, Sci-fi, BDSM, M/M, and Ménage, haunting love stories are guaranteed.
Stalk her in these places:
Website  Twitter  Facebook  Pinterest  Instagram  Evernight Publishing