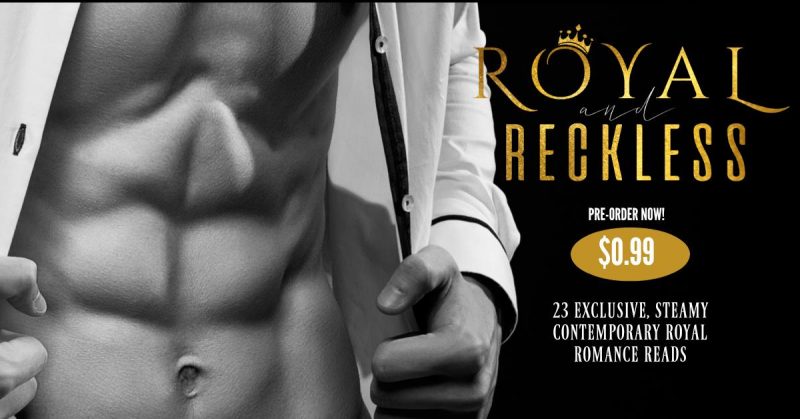 I'm delighted to announce that my brand-new steamy romance, Seducing Her Prince, is available for pre-order in the Royal and Reckless Contemporary Romance Collection, together with 22 other fabulous books by USA Today and Amazon Bestselling authors.
Which royal will rule your heart?

Power, money, and fame aren't the only noble pursuits. Enter the world of the Royal and Reckless, where the blue bloods run red hot, and scorching secrets lie just beneath the polished surface.

Inside these pages, you'll find stranded royals, fake fiancées, reverse harem kingdoms, and more than one compromising position. From hidden royalty to secret babies, plots and twisted games, there's something for everyone in the steamy scandals behind the crowns.

Join the Royal and the Reckless with more than twenty sizzling tales of sex, love, intrigue, betrayal, and blackmail!
Pre-order today! Only 99 cents USD for the whole set!
US readers:
Non-US readers:
Coming to Amazon at a later date
Want to know more about my title in this set? Here 'tis…
Seducing Her Prince

Sometimes lust and love collide. And sometimes, duty can destroy it all.

A prince who would do anything to avoid his royal duty. A professional seducer hired to bring him back into line.

The moment Kasper lays eyes on Eleni, attraction flares between these polar opposites. As Crown Prince, Kas is used to taking whatever he wants, and this mysterious woman with a secret past is there for his pleasure. Whenever and wherever he dictates.

Eleni has never experienced anything as strong as the passion that burns when Kas holds her in his arms. She has no right to keep taking what he gives, but the lure of desire is too powerful to resist.

When hidden secrets are exposed, the heat of seduction threatens everything Kas and Eleni hold dear. Will love win out against duty, or will the fiery struggle for power destroy it all?
~~~
Want to stay up-to-date with Jen Katemi's writing news and latest releases? Sign up here for her e-newsletter and never miss a new release.