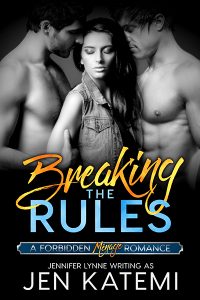 Yay, it's release day for Breaking the Rules, the latest in my Forbidden series of short novellas exploring steamy romance paired with happy-for-now endings. If you enjoy ménage romance, then this one's for you!
When her sexy neighbors rescue Stacey from a broken-down car in the dead of night, their offer of a threesome experience is far too tempting to resist. But when you've always lived by the rules, you can't fall for two men who live to break them. Can you?
SPECIAL RELEASE WEEK DEAL – grab your copy before the price goes up!
Read at AMAZON US / AMAZON AU / AMAZON UK / AMAZON CA  
For Kobo, Apple iBooks or Nook, please CLICK HERE 
Note: Breaking the Rules was previously published in the Rapid Pulse Spicy Romance Box Set, but this is the first time it is available as a stand-alone title.
Excerpt (Adults-only)
My cheeks are so hot I must look like a pickled beetroot. Just like that, they've stripped away everything I thought I knew about myself and what I'm willing to accept in a relationship. My s*x is aching and full at the discovery that these guys really do live outside the rules of convention. Threesomes. They like threesomes. "You mean…you sleep with the same woman…at the same time?"

"Does that shock you, Stacey?" Teale's voice is gentle; slightly teasing.

I shrug and shake my head, trying to appear cool but knowing that he sees right through my guise. I'm not cool with this. I don't understand the whole ménage thing. How do the participants not get jealous? How do they make sure everyone gets what they need, both physically and emotionally? How do they make sure nobody ends up feeling left out? Most importantly, how do they stop everyone else outside the relationship judging and looking down their noses because their s*x life isn't considered normal?

I don't understand my own body's intense reaction to the idea of s*x with both Teale and James at the same time. I crave normal, especially after my experiences over the past couple of years. A threesome is not something I'm personally familiar with, or have ever sought out, and it's certainly not something I'd ever consider the norm. Right now though, my traitorous cl** swells and my c**t is damp as my mind floods with images of Teale, James, and now me in the mix too, rutting and pleasuring each other in combinations only limited by my imagination.

By the way, I have a vivid imagination.

(copyright Jen Katemi)
Be tempted by the forbidden! Check out all the Forbidden series novellas here.