To celebrate the upcoming Evernight Publishing release of my naughty fairy tale retelling, Touch Me Not, I wanted to show you why I love this publisher so much. Check out just a few of their fabulous recent releases – don't they look and sound awesome?! Click the covers for more info on each title.
Captivating Melody by Katherine McIntyre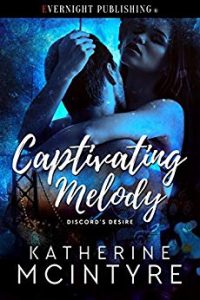 Cross a satyr, a siren, and an incubus with rock and roll, and you get Discord's Desire, a band of panty-dropping hellions whose live shows incite orgies. As booking manager, Liz O'Brien has the monumental task of keeping the boys in line. She's resistant to glamour of the fae and fame variety, which only makes her more tempting to lead singer, Kieran Blackmore. With his incubus charms, he could have any girl he wants—except Liz, who's determined to stay professional.

However, when Kieran's brother sends hitmen after the band, Liz discovers hunters with her abilities who are mortal enemies of the fae. Mercenaries might attack post-show, but Liz has her Beretta to handle that. What terrifies her more than any monster is how she's falling for Kieran, which triggers every 'run-away' sensor in her foster kid handbook. With war brewing between the hunters and the fae, their love can only end in heartbreak.
On the Ropes by Dania Voss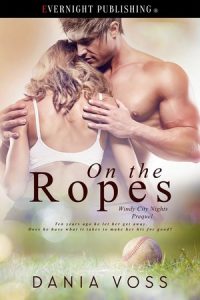 Ten years ago he let her get away. Does he have what it takes to make her his for good?

By all accounts Luke "Strike 'em Out" Stryker lives a charmed life. He's won 4 World Series Championship rings and is the Chicago Cobras star pitcher. He's gorgeous, wealthy and is dating one of Hollywood's biggest A-list actresses.

But things aren't always as they appear.

Abbey Jayne has been nursing a broken heart since Luke Stryker betrayed her ten years ago. She's spent the last ten years focused on her career and education, trying to get over him.

Forced to see him again at her sister's wedding, Abbey vows to not let Luke ruin her weekend.

An accident days before the wedding has Luke re-evaluating the harsh realities of his life and future. A future that must include his one true love Abbey.

A terrible misunderstanding drove them apart ten years ago, but Luke is determined to win Abbey back by the end of the wedding weekend. He'll do whatever it takes to convince her they belong together. Failure is not an option.
Her Sir by Megan Slayer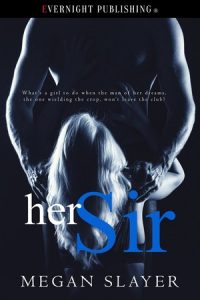 There's only one man for Andi—her Sir.

Andi McCarron knew the moment she met Sir's gaze, he'd change her life forever. Despite other Doms wanting her as their sub, she only submits to him because he knows how to make her skin tingle. The pain delivered from his crop makes her spirit sing. She needs Sir but she wants more—except he's not interested in taking the relationship outside of the club. What's a girl to do when the man of her dreams, the one wielding the crop, won't leave the club?

Dean Meyer craves his sweet sub, Andi. She fills his dreams and fantasies, but she wants a relationship. He's not sure she can handle both his demons and secrets. Still, he can't deny the attraction to her. When fate throws them together, he has to make a choice—give his sub what she needs or let her go for good.
Love Reawakened by LM Spangler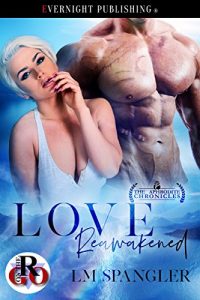 Drea Tate had loved and lost … and gained.

Having been told her lover died and her life was in danger, Drea left her home in the Appalachian Mountains of Pennsylvania to start anew in Cicada Lake.

Micah Bridges had been lured to Cicada Lake by the hefty bounty for catching a wealthy bail jumper.

Imagine their surprise when they meet in the small town's only bar. And imagine Micah's surprise when Drea drops a photo of a young boy who looks just like him.

Lies had torn them apart. Can they reawaken the love they once shared? And is there enough love to go around?
Lost Until You by Kimberly Daniels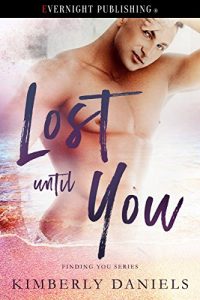 Camryn Singer never imagined that she would return to the place where she lost everything. To grant a dying wish, she and her young son make the move back to the small Jersey beach town where she grew up, hoping to somehow find the missing pieces of her life. Determined to keep her heart guarded, the last thing she needs is the force that is sexy surfer, Cole Stevens, literally slamming into her life.

Struggling against growing feelings for Cole, Camryn tries to focus on life with her son. But when Cole picks the lock to her heart, Camryn knows he might be the one to change everything. Just when Camryn thinks she's finally finding her happiness, a ghost from the past comes back to haunt her.

Camryn must now decide between letting Cole stand with her in the fight for her life, or staying lost in the pain of the past.
And Now You're Mine by Annie Harland Creek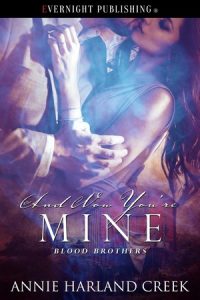 Christoff Berg is known as the Enforcer. Other vampires fear him, and his swift justice is legendary. While tracking a diabolical presence, he becomes enamored by the beautiful gypsy and is convinced that he's under her spell. This time, her charms won't work. If she wants to sell the locket, he'll name the price.

From the moment the locket burns her palm, Evangeline senses its power. Time is running out for her mother, and the money she's already made using her telekinesis to scam the rich is not nearly enough for the expensive medical care. The strange medallion may be the answer to her prayers. A nocturnal visit from an ancient vampire who demands the locket, convinces her that it's worth much more than she'd originally hoped.

Even as they strike a bargain, her past places her in the path of his wrath. Will he be her savior or executioner?
Unexpected Adventures by Laura M. Baird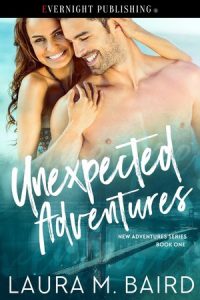 Order and routine is introverted Abby's motto, so when she's being pushed to step out of her comfort zone, meeting hunky Shaun may be just the catalyst she needs.

Their swift attraction to one another leads to new adventures that include paragliding, tattooing, and, yeah—Abby relinquishing her virginity.

Laugh along with Abby as she discovers how fun it can be to step off her straight line.
~~~
Click here to visit my author page at Evernight. Or even better, sign up to my newsletter and never miss a new release!