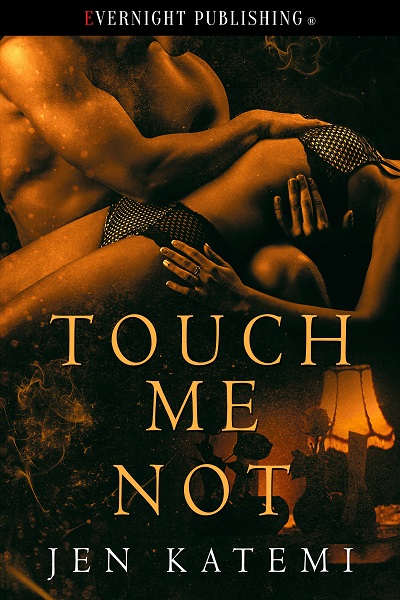 My favorite kind of blog post! I'm delighted to show off the brand-new cover for TOUCH ME NOT, my upcoming Evernight Publishing release. Isn't it beautifully sultry and intense – the talented Jay Aheer got the feel just right for my contemporary (and very steamy) take on the classic fairy tale, The Princess and the Pea.
I'm not sure what I was thinking, pairing a woman who can't bear to be touched, with a Dom who owns a brothel, but this has actually turned into my favorite story yet. Alexei and Mia's relationship is intense and complex, and I have to confess, I've fallen in love with them both. Here's the blurb:
Mia doesn't believe in happily ever after. She's spent her whole life fighting the pain of overly-sensitive skin, and never known the joy of being touched in a way that brings pleasure instead of pain. When a mysterious woman suggests her son might be the key to breaking Mia's curse, it sounds far too crazy to be real—especially when she finds out he's a nationally renowned Dom in an exclusive, members-only club. But Mia is desperate enough to try anything…

Alexei knows there's no such thing as happily-ever-after. He's a child of the streets, rescued by a brothel queen, and the last thing he needs is another suburban princess getting in his way. Bondage is his lifestyle choice. Pain is his business. He wouldn't know what to do with a woman who likes it subtle. What is his adoptive mother thinking, to bring an innocent like Mia into the dark heart of their infamous Club Plaisir?
TOUCH ME NOT is already available for pre-order… so you can hop on over to your favorite eBook retailer and order now, for delivery on August 3rd!
Amazon / Nook / iBooks / Kobo / BookBub
Add to your Goodreads shelf
Want to read an excerpt? Here's an Adults-only snippet…
"Tell me how you feel, Mia. Where does it hurt?"

I check in with my body, doing the usual rounds. "Nowhere." I can't believe it. Arms, legs, torso, face. Even my privates are okay. "Other than a bit of discomfort around my wrists. For once, I'm not in pain."

"Good."

"It's really unheard of. I'm not. In. Pain." I probably sound as giddy as a kid let loose in a candy store, but I can't help it. The relief is beyond words.

"Double good." He strokes a finger gently down my still wet seam, and this time the sensation is pure pleasure. I shiver beneath his touch. How is it possible that desire is once again making itself felt?

"Don't stop. That feels wonderful."

He chuckles, a short burst of sound, and once again I'm struck by how seldom he seems to give in to genuine mirth. "You managed to hold in the Ben Wa. I take off my hat to your muscle tone and inner strength." He tips his forehead briefly, and I slap playfully at his hand. A simple gesture, maybe, but one that, for me, breaks new ground.

Then a horror thought takes hold. "What if it went too far up? What if it got lost up … there?"

This time his laughter is more pronounced. "Oh Mia."

"Well, you never know—"

"That's impossible, little one. Concentrate. Can't you feel it, still in there, vibrating gently whenever you move?"

I change position in the chair, and my eyes widen. He's correct. I can feel it vibrate. It's definitely deep inside, but not so far up that it feels wrong. Again, I shift experimentally, and the ball shivers inside me, setting off a pleasurable chain reaction that reverberates through my abdomen. "Oh! I … that feels…"

"Is my little Mia ready for more?"

(copyright 2018 Jen Katemi)
~~~
Sign up for Jen's email newsletter here and never miss a new release!