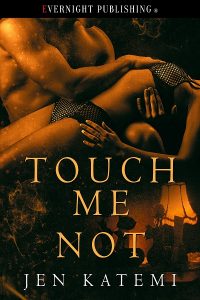 Hi everyone, I had a little mishap with my blog this week, in that… well, it seems to have broken and not be delivering posts to those who signed up. I'm not at all tech savvy, but I think I fixed it with a new plug-in, so hopefully you will actually start receiving posts once again!
Yesterday I announced the cover reveal for my upcoming Evernight Publishing release, Touch Me Not. This steamy contemporary romance is a retelling of the classic fairy tale, The Princess and the Pea, and will be out in the big wide world on August 3rd.
If you missed that particular post and would like to read it now (including an Adults-only excerpt, plus links to pre-order Touch Me Not), please click here.
Sorry everyone. Here's hoping the new blog delivery system will be more reliable than the old!
~~~
You are currently signed up to receive blog posts from Jen Katemi (aka Jennifer Lynne), Romance Author. You will only receive an email when there is a new blog post. If you wish to unsubscribe, please email – jenni (at) jenkatemi (dot) com
If you would like to view Jen's Privacy Policy, please click here.