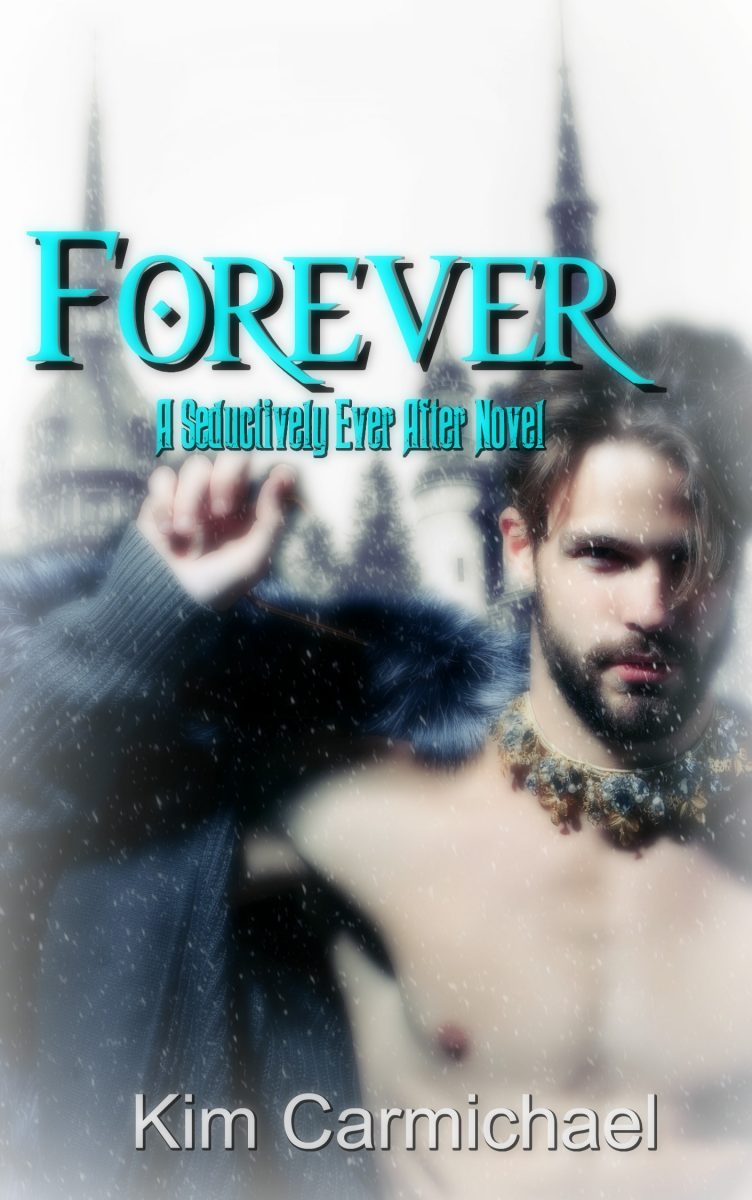 Today I'm delighted to feature another of my fellow authors from the ROYAL AND RECKLESS BOX SET. Kim Carmichael has a love of quirky characters, unique settings and happy endings. Sounds awesome to me!
Welcome to the blog, Kim. Can you tell us a little about you? Are you a plotter or a "pantser" when you write?
Thank you, Jen! I used to be a pantster but now I am a definite plotter.  I get stuck if I don't have a clear vision of each character's goals and motivations. I get my surprise in adding in the conflicts.
Do you have a favorite character in your books? 
I think I am going to say it is a toss-up between Logan Alexander in Typecast because he is my vision of a teen idol, and Dolan from The Promise because he was so bad and in trying to be even worse he only did good by mistake.
How do you balance writing with other aspects of your life?
I don't – I'm pretty much a hot mess all the time between writing, a full-time job and family. [Jen – yes, sounds familiar!]
What's your favorite time management tip? 
Just write, or you will never write.
Tell us more about your upcoming title in the Royal and Reckless Collection.
It is part of my Seductively Ever After Series. It features my take on the Prince and the Pauper and is called Forever. Here's the blurb:
A superfan goes in search of the ultimate urban legend – was the prince really her dead rock star?

Wolfgang Phillips was once the bassist for the world-famous group, Spectre.  Twelve years ago, tired of a life lived out of a tour bus and putting business before music, he looked for a way out. When he meets his doppelganger, a spoiled prince from the small European country of Savell, the two switch lives on a whim, until a freak accident on stage kills the prince, leaving the performer to take his place permanently.

Spectre superfan and divorce attorney extraordinaire, Delaney Carboni, lives her life on edge. Her only comfort is getting in the car and blasting the music of her youth. The day of the Spectre explosion, she was injured when she rushed toward the stage trying to help them to no avail. Now on a forced leave from work, she travels with her best friend to Savell in hopes of catching a glimpse of the prince who looks exactly like her beloved dead rock star.

At a palace party they meet and sparks fly. While Delaney risks everything to find out the truth, the reclusive prince struggles with opening his heart and showing his true colors to the one person he loves.
What appeals to you about writing a story featuring a royal?
I think that it's all part of the fairy tale and unattainable.  When you write a royal money and power are abundant and you have no limitations.
What's next for you, writing-wise? 
I just finished book three in my Indelibly Marked Series and I have just started an exciting story that will feature some interesting rock stars.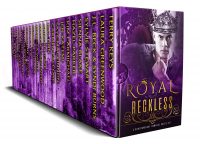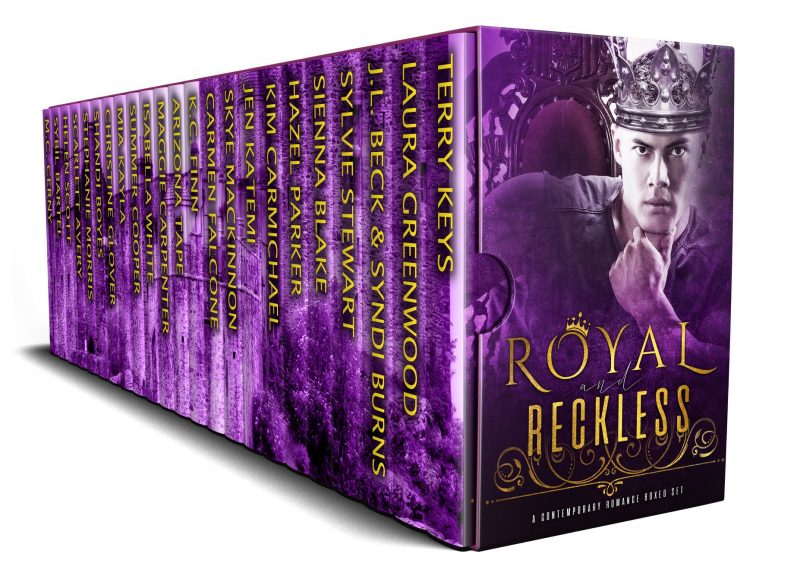 The ROYAL AND RECKLESS COLLECTION, containing FOREVER plus 22 other steamy royal romance books, is available now for pre-order. Only 99 cents (USD) for 23 steamy royal books!
CLICK HERE TO ORDER AT NOOK, IBOOKS OR KOBO
~~~
GIVEAWAY – FREE TEASER CHAPTERS!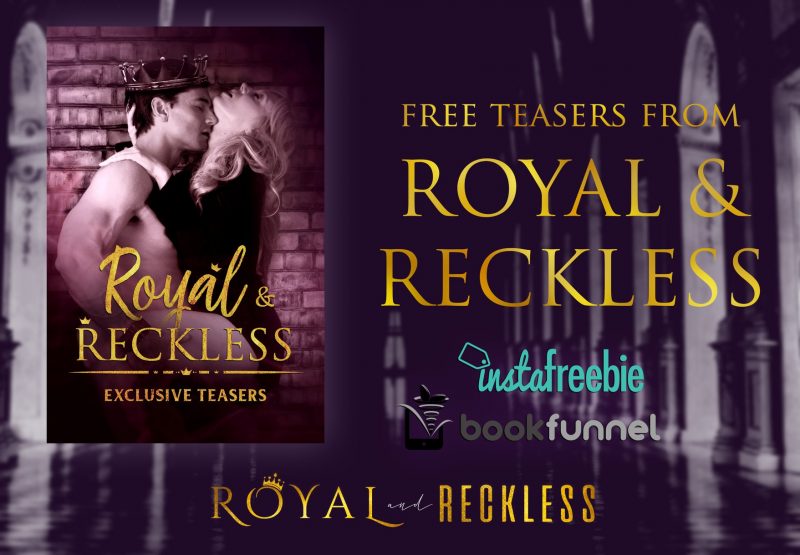 If you're curious about the ROYAL AND RECKLESS BOX SET but haven't yet ordered your copy, then why not check out the first three chapters from 20 of the 23 books in the set? The chapter samples are available FREE from Instafreebie or BookFunnel.
In the meantime, please read on for an excerpt from Kim Carmichael's Forever…
"The prince." She breathed the word.

When she still didn't courtesy, he bowed. "Pleased to make your acquaintance."

"Don't you have a party to attend?" She glanced down at her nearly bare chest then yanked the fur off the floor to cover herself. Not that it mattered, but he managed to get quite an eyeful. Still, as incredible as this chance meeting happened to be, it appeared as if she were doing something she shouldn't unless it was with him in his castle.

"Well, it appears as if the party has already started in here." He lifted his chin. "I apologize profusely if I interrupted something in my own castle. If you are expecting someone, perhaps I can return later."

"I was waiting for my friend to fix my dress." Even in her compromised position, she jutted her chin out at him. "This was not how I wanted to meet you." She furrowed her brow.

All right, this was getting better. He took a white linen napkin off one of the shelves and wiped down his bottle. "Well, consider this your private audience."

Her face softened, let her pretty little features show, a blush broke through her messed up makeup. "What are you doing in here?" She continued to try to adjust the dress and dropped the fur.

From her accent, or lack thereof, he could tell she was from the States, somewhere in the west most likely. But she offered no introduction, no name to go with the face or blue dress, and she adhered to no protocol whatsoever. Fine, he could play the game. Maybe exactly what he needed was a brash American, one who wanted to meet him, the prince. "Why don't we deal with you first?" Not wanting her to fidget, he put the bottle on a shelf and approached, kicking the fur aside.

Eyes wide, she stared up into his face as he came closer, then went behind her. A quick assessment told him the zipper simply split. He grabbed both sides of the dress and hiked it up.

"Excuse me." She stiffened.

He took in her smooth back and couldn't stop a smile. It had been eons since he indulged in a woman. With his family name, any dalliance was practically public before he got a chance to pull out. Of course, it had also been a long time since anyone piqued his interest as this defiant one.

Once more tonight, his past snuck up on him. Back in the day, back when he spent his life living in a tour bus or in some hotel, him and the guys often ran into clothing issues. Zippers were his specialty.

He ran his fingers down the zipper and found the culprit, one bent tooth, and took a quick peek at the label. "For such a designer, this should have been made better." The dress was worth well into four figures.

She crossed her arms. "For a castle who has a full-time person to monitor the temperature of fish pond, the Prince is in a linen closet playing tailor."

From behind her he grinned. She had spunk and an attitude, something he sorely missed. "There are times that everyone needs a break, wouldn't you agree?" He bent the zipper tooth back into place.

Rather than spit an answer at him, she sighed. "That's what everyone tells me. Sometimes it can be harder to accomplish than one would think."

"Well, you're here in hiding as well. Maybe it's easier than you would think." He chuckled.

"Hardest thing I've ever done." Her tone lowered. "Leaving for vacation is more like a punishment."

"You're quite the worker then?" Strange, what one could discern from what someone said, even if he didn't know her name.

"Some would say so. I say anything you do, you should do with passion and fervor." Her voice laced with an intensity he hadn't experienced in a long time.

He let her words sink in and took in her back. Smooth soft skin ready to be touched and brought to life. "And what exactly are you passionate about?"

For a moment she was silent. Then she shrugged. "Everything," she whispered. "I don't know how to do less."

He nodded and struggled with the zipper.

"What about you?" Her question echoed through the small space.

Before spewing an answer, he gave it some thought. His mind flashed to Phil and Spectre and then to his life as Tavio. In truth, since he auditioned for Spectre, things sort of fell in his lap. "It could be I'm not passionate enough."

"I don't think that's the case." Her voice softened.

He didn't remember the last time he had the faintest interest in someone. This was the most intimate conversation he'd had in an eternity. Fortunately, or unfortunately, the disobedient fastener chose that time to slide up. The snug dress contoured to her curves, but somehow, he felt like it should be traveling the other way. A sensation he welcomed. "What is the case?"

"I suppose it is all in what matters most." She leaned back against him. "Is it your privacy you're passionate about? Your work? Your cause? I walk around half the time with a knot in my stomach wondering what I could be doing or what I should be doing."

Beneath his fingertips she trembled. Rather than speak he ran his hands down her shoulders. He had those same thoughts all the time.

"Thank you," she whispered.

He leaned down by her ear. "For what?"

"For not just telling me to simply stop thinking about it." She twisted around to look him in the face.

"How could I tell you to do that? I didn't know there was a switch. If there was, wouldn't we all use it?" He studied her eyes, they seemed to sparkle.

"And that, Your Highness, is why I need to thank you." In one smooth motion she turned, and without warning stood up on her tiptoes and brushed her lips across his.

While it may have been a simple gesture, a light flutter of her mouth on his, every part of his body reacted. When was the last time he was turned on? Honestly aroused? He didn't know, didn't care, all he knew was here in this closet with no-name blue dress woman in his arms, he needed more.

For the first time since he could remember, he acted on his instinct, on his wants, didn't second guess his actions, and he pulled her closer to give her a more proper kiss, one where their mouths melded together. Her taste flooded his senses and begged him to indulge.

With as much furor as he kissed her, she returned the action, and right as he was about to either push her up against the shelving and take in some more of that glorious body, or figure out a way to sneak them both up the back stairs, she gasped and put her hand to her chest.

He hooked his fingers under her chin and tilted her face up his. "Everything all right, princess?"

Her eyes wide she stared at him. "I'm not a princess."
Want to learn more about Kim Carmichael? Connect at her website or Amazon page.