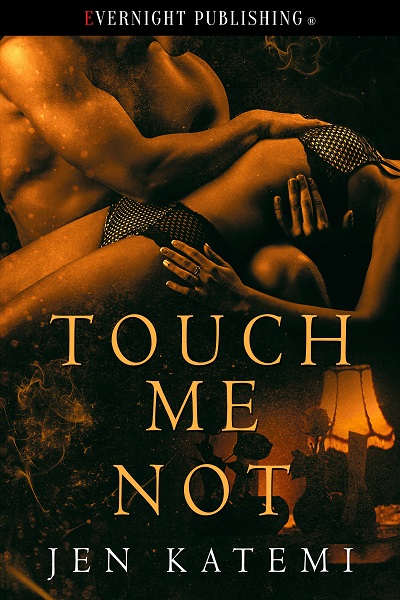 I always love book release day! And I especially love this one, as TOUCH ME NOT has turned out to be one of my favorite stories yet. Not sure what I was thinking when I paired a woman who can't bear to be touched, with a man who both owns and works in a brothel as a Master of Pain.
Not quite hero material, you think? I definitely thought so, when I started writing this one, but Alexei was so insistent, so complex, and so in need of his own happy-ever-after (or at least, the possibility of one), that I couldn't stop the words from flowing.
Mia was the only possible woman who might have a chance of breaching the wall he'd erected around his emotions, and of course, Alexei was probably the only man who might have a shot at helping Mia overcome her extreme hypersensitivity to touch.
I do hope you take the time to check out TOUCH ME NOT, my steamy and contemporary take on the classic fairy tale, The Princess and the Pea. To make things even more enticing, my publisher Evernight is offering 25% off (as at time of writing this) – so now is the perfect time to grab your copy of TOUCH ME NOT if you haven't already done so.
Available at:
Evernight Publishing (currently 25% off, only at the publisher website)
Amazon / Nook / iBooks / Kobo / BookBub
Add to your Goodreads shelf
Want more info? Here's the blurb:
Mia doesn't believe in happily ever after. She's spent her whole life fighting the pain of overly-sensitive skin, and never known the joy of being touched in a way that brings pleasure instead of pain. When a mysterious woman suggests her son might be the key to breaking Mia's curse, it sounds far too crazy to be real—especially when she finds out he's a nationally renowned Dom in an exclusive, members-only club. But Mia is desperate enough to try anything…

Alexei knows there's no such thing as happily-ever-after. He's a child of the streets, rescued by a brothel queen, and the last thing he needs is another suburban princess getting in his way. Bondage is his lifestyle choice. Pain is his business. He wouldn't know what to do with a woman who likes it subtle. What is his adoptive mother thinking, to bring an innocent like Mia into the dark heart of their infamous Club Plaisir?