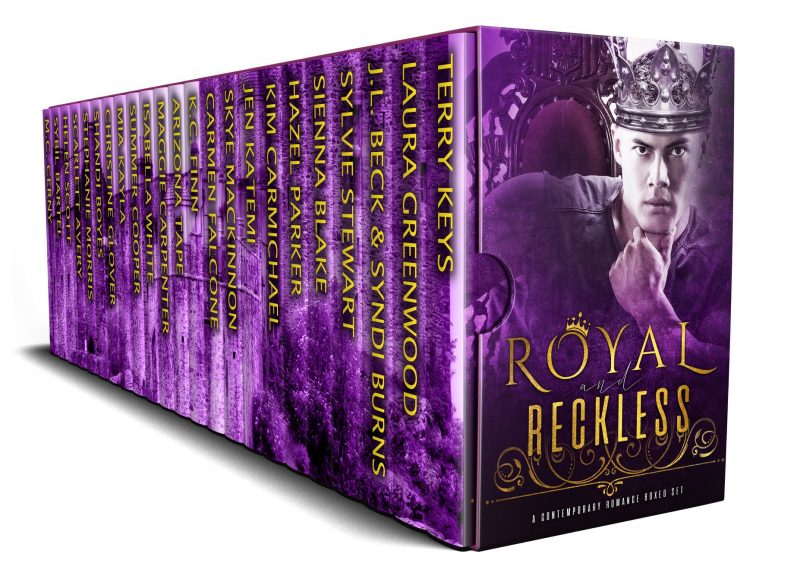 Today I'm delighted to introduce Christine Glover, my friend and fellow author in the ROYAL AND RECKLESS BOX SET. Her new romance WRONG PRINCE, RIGHT LOVER is one of 23 steamy royal stories in the set.
Welcome, Christine! Do you have a favorite genre in books (to read and/or to write)?
I love reading all forms of Romance, Cozy Mysteries, Memoirs, Thrillers. I write contemporary romance, but have branched out to romantic suspense and LOVE writing bodyguard protector stories.
How do you balance writing with other aspects of your life?
I don't really think of this as a balance as much as a way of life in general. I put myself first. My health is a priority and always will be. If I'm not healthy, I can't write my books! My family and friends are a close second to me. Then comes the writing, publishing and whatever else has to happen in this crazy business. I am in this for the long run, not a short one. So for me it has to be fun too. So I don't do the "you must write a bazillion books to be discovered" deal. I do the "write the books you want to read and be an artisan author" deal. It works for me. I have a great life and I am able to do more because I make myself and my family a top priority.
What made you want to be an author, and at what age did you start telling stories and writing them down?
I think telling stories and writing is part of my DNA. I was born with the desire to create and have done so in various forms all my life. I wrote fan fiction when I was a kid, ansty poetry as a teenager (still write poems on occasion), and am an extensive journal writer. I love blogging too. It's a great way to cover non-fiction topics. I've always loved reading, particularly romances when I was younger, so romance was a natural fit for me when I finally sat down to write a full length novel. I love writing because it always challenges me intellectually.
What do you like best about being a writer?
I love creating worlds and three-dimensional people. I'm my own boss now that I'm all Indie, which means I have total control over my time. I love being the Empress of my Universe.
Tell us more about your upcoming title in the ROYAL AND RECKLESS Collection.
WRONG PRINCE, RIGHT LOVER puts a virgin princess who had been groomed her entire life to marry a prince from a foreign life into his younger brother's bed after he dies suddenly. Ilsa isn't prepared for Santiago, but he's been secretly in love with her for several years. Turns out, he's the right man for her after all… especially between the sheets!!
Can you please share the blurb?
He was the wrong brother at the right time… sexy, thrilling and hot…

After his older brother suddenly dies, Prince Santiago de la Fuente honors his family's peace negotiation and proposes marriage to his brother's fiancée to prevent a war between their countries. Princess Ilsa van Winnsen agrees to go through with the arranged marriage despite having her heart broken only days earlier by Santiago's brother. But she's still a virgin and no way will she lose her virginity to the wrong prince without a few sexy lessons. And she definitely won't make the mistake of falling in love with another de la Fuente man.

Santiago had the hots for Ilsa long before his brother's death gave him the opportunity to marry her. He's thrilled to teach his proper princess how to be naughty in the royal bedchamber and more to win over her heart. Soon their sexy explorations spiral into a sizzling sexual and emotional encounter… now they believe they've got a shot at a real happily ever after.

But rumors and accusations conspire against them when Santiago's charged with his brother's untimely death. Together, they fight to prove his innocence, protect their countries and save the love building between them… until the secrets swirling around them pressure them to put their hearts on the line or lose everything they desire…
What appeals to you about writing a story featuring a royal?
I loved writing about a fake kingdom with real world problems. Santiago and Ilsa are modern royals trying to bring their countries out of their old ways and into new ways of living. It was fun to write about their lives and how they came together as a couple. And well… royals have all kinds of money to make magical events take place like setting up a honeymoon cabana on a private royal beach which overlooks the Mediterranean Sea. Total fantasy getaway!
Why do you think readers love stories featuring royals?
I think it's the total escape from reality that appeals to the readers. Yes, these royals have problems too, but they are glamorous and live fabulous lives too. It's awesome to pretend for a while that you're in that world too even if it's just in the pages of a book. 🙂
What's next for you, writing-wise?
I'm currently working on another Brotherhood Protectors' novella for that series. I've completed the third book in it and I'm excited about the story. I've also got plans to write more royal stories as spin offs from WRONG PRINCE, RIGHT LOVER. And I've got a fun, super-secret series I'm building that'll release in about a year.
The ROYAL AND RECKLESS COLLECTION, containing WRONG PRINCE, RIGHT LOVER plus 22 other steamy royal romance books, is available now for pre-order. Only 99 cents (USD) for 23 steamy royal books!
CLICK HERE TO ORDER AT NOOK, IBOOKS OR KOBO
~~~
GIVEAWAY – FREE TEASER CHAPTERS!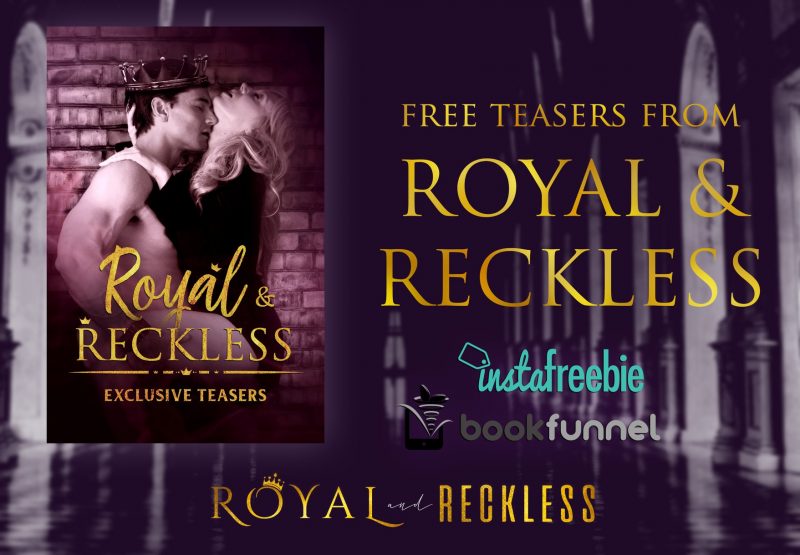 If you're curious about the ROYAL AND RECKLESS BOX SET but haven't yet ordered your copy, then why not check out the first three chapters from 20 of the 23 books in the set? The chapter samples are available FREE from Instafreebie or BookFunnel.
In the meantime, please read on for an excerpt from Christine Glover's WRONG PRINCE, RIGHT LOVER…
This excerpt occurs just after Santiago's older brother suddenly dies and Ilsa agrees to marry Santiago to keep their countries from going to war.
"Standing by you is part of the package when you signed on to marry me, Santiago," she said coolly, though she still wanted to smooth the lines in his brow and brush the tendrils of dark curling hair from his forehead.

"You've been through hell today. I shouldn't have asked you to come with me, but I'm glad I did," he said.

"Hell would be an understatement for both of us. You lost your brother, Santiago," she said, suddenly caving to the yearning to connect with him on some level, to caress his stubbled jaw. "Your mother lost a son." And she'd lost a fiancé.  One she'd genuinely cared for even after she'd overheard his casual dismissal.

She paused, but before she could remove her hand from his handsome face, Santiago captured it in his. "Sí," He brought it to his lips. "But we'll get through this together. Buenas noches, preciosa. We've got much to do before the wedding." He released her hand to open the door.

The soft brush of his mouth against her skin sending tingles along her nerves and into every woman part she possessed. She could say one thing about the de la Fuente men… they were sexy as hell, but Javier had never loved her. And why should she trust Santiago to feel anything for her beyond mere respect? "Until tomorrow," she said, stepping into the room and closing the door.
Readers can connect with Christine Glover and her books via Facebook, Twitter and her author website.