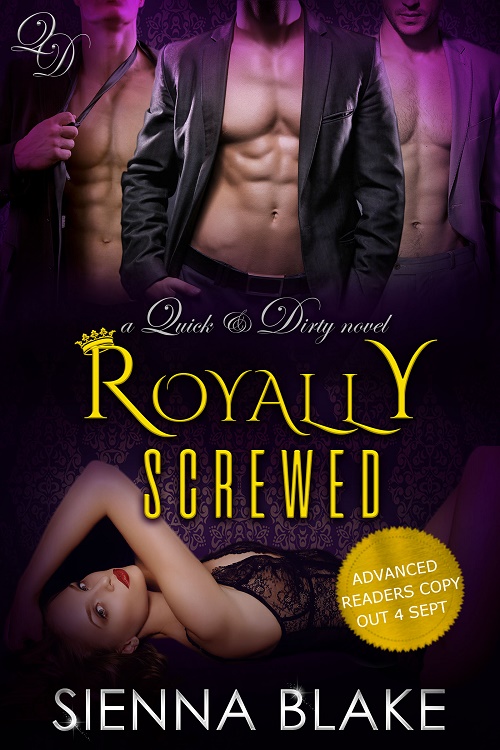 Today I'm delighted to introduce my fellow ROYAL AND RECKLESS BOX SET author, Sienna Blake. She loves all things that make her heart race—roller coasters, thrillers and rowdy unrestrained sex. Her title, ROYALLY SCREWED, is one of 23 contemporary books containing scandalous royals and steamy romance in the Box Set. You can pre-order all 23 books for only 99c – read on for more!
Sienna, tell us more about your upcoming title in the ROYAL AND RECKLESS Collection.
ROYALLY SCREWED is a steamy reverse harem fit for a Queen 😉 Here's the blurb:
Prince Grayson.

Heir to the British throne.

Sexiest man I've ever laid eyes on.

For some strange reason, he wants me.

I can see the red-hot lust flaring in his eyes when I near. Can feel the thick, long evidence of it when he presses up against me.

And I want him. I want him so bad it hurts.

One week.

No strings.

Just unbridled, wild passion with a future king.

Except he has one condition.

One that has me thinking I might be in over my head…

He won't give me what I want unless his two bodyguards join in.

Warning: This is a sexy-as-sin, reverse harem romance. Can you handle three huge alpha men focused on her pleasure and taking it all the way?
Why do you think readers love stories featuring royals?
Every woman is a Queen and deserves to feel like one!
Tell us about your latest release, out Aug 28th. It's not royal, but it still sounds steamy!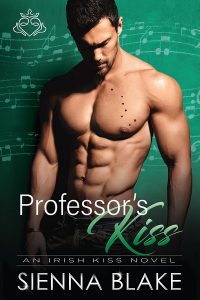 PROFESSOR'S KISS is an angsty second-chance, student/teacher romance…
Danny O'Donaghue.
Indie rock god.
Lady killer.
Devil with midnight hair and blue-flame eyes.
He's my ex-best friend. My first love. My tormentor…
…is now my professor.
Can you tell us a little about your current WIP?
THREE IRISH BROTHERS is a sexy reverse harem novel set in Ireland…
Savannah has fled New York after finding her "perfect" life is a lie. Out in the Irish countryside, she's rescued from the side of the road by three Irish men.
Three brothers. Broad shoulders, strong arms, accents that make her wet.
Three smoking hot brothers who all want her.
What makes a great romance hero?
He's strong in character not just physically, and he always puts his woman first.
What's next for you, writing-wise?
A voyeuristic MFM with a ruthless bodyguard protecting his best friend's barely-legal daughter.
Sienna has kindly provided an excerpt from her contribution to the ROYAL AND RECKLESS BOX SET, ROYALLY SCREWED…
He places the chocolate mousse on the table between us and holds up a single dessert spoon. The warm glow of the candles makes his lightly tanned skin glow.

I pout. "Where's my spoon?"

"You don't need one."

That stings. I swallow, hard, and sink back into my chair, folding my arms over my chest. "Okay, fine, I could stand to lose a few pounds, but you don't need to—"

"Sophia!" He looks horrified. "I'm not suggesting that you shouldn't eat dessert. You don't need a spoon because I was going to feed you."

Oh.

"I have an arse," I blurt out.

He grins. "I noticed. Officially, men love arses. And I think I can speak for all men—at least all the British ones—I am their future king, you know. Unofficially…I can't wait to get my hands on that beautiful round bum of yours."

I almost choke on my own tongue.

"And for the record," he scoops some mousse onto his spoon and holds it out, a hungry look on his face as he stares intently at me, "I think you look fucking perfect."

I think you look fucking perfect.

I don't think I have ever felt as sexy as I do in that moment. Spurred on by his sincerity, I lean forward towards the spoon suggestively. His gaze drops to my mouth. He lets out a groan as I suck the mousse off. The chocolate is like heaven on my tongue, and I can't help my own little moan of pleasure.

"If I wasn't such a gentleman," he says through gritted teeth, "I'd throw you across this table, strip you naked and see how many more noises I can coax from that pretty little mouth."

Heat sears through me.

"What a pity you're such a gentleman," I say, attempting to sound teasing but my voice coming out all breathy instead.

"Damn this good breeding."
Read more of ROYALLY SCREWED, plus 22 other steamy royal romance books (including my new release, SEDUCING HER PRINCE!) in the ROYAL AND RECKLESS BOX SET. Pre-order is only 99 cents, for delivery to your favorite eBook reader on September 4th!
CLICK HERE TO ORDER AT NOOK, IBOOKS OR KOBO
Find out more about Sienna Blake and her books at her author website, or connect with Sienna on Facebook.