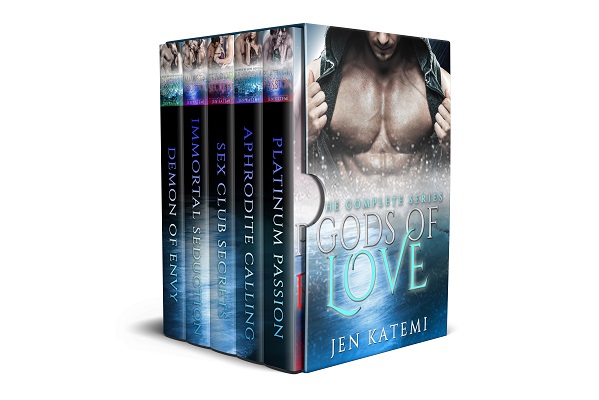 Are you familiar with my GODS OF LOVE series? If not, now is the PERFECT time to check it out! These reader favorite contemporary paranormal romance titles are together in one Box Set for the first time ever in digital format. In the past, all five were together only in print.
This steamy set includes PLATINUM PASSION, APHRODITE CALLING, SEX CLUB SECRETS, IMMORTAL SEDUCTION and DEMON OF ENVY. Get your copy now as it's only available in digital format for a LIMITED TIME.
Available at:
An erotic collection of stand-alone novellas in which even the gods themselves succumb to the influence of mortal love. The Greek gods of desire are skilled at satisfying the erotic needs of humans who cross their path. But where do the immortals turn for sexual healing when loneliness strikes at each eternal yet world-weary heart?

Platinum Passion

Jeannie and Jake's platinum anniversary becomes an unforgettable ménage à trois experience when Pothos, god of sexual yearning, steps in to save their marriage.

Aphrodite Calling 

In the arms of transsexual woman Gina, has Himeros finally discovered the one with whom even a god of sexual desire could find fulfillment?

Sex Club Secrets 

Ella and Kade meet the erotic god Anteros in a celebrated sex club–but the challenges facing these potential friends-to-lovers could prove too much for the god of requited and unrequited love.

Immortal Seduction 

The goddess Aphrodite is hungry for love, but firefighters Ashur, Kieran and Hugh have been scarred by a tragedy. It will take more than a night of ménage à quatre passion to save them.

Demon of Envy 

What's a girl to do when the man of her dreams turns up on the doorstep…and it turns out he's a fallen immortal trying to claw his way back toward a state of grace?
What readers are saying…
"One of my favorite series out right now…sexy, emotional and passionate…" ~ Wicked Readings by Tawania
"I love this delightfully sexy, amazingly beautiful book. This author has a wonderful way of digging into human emotional states and revealing our inner turmoil and darkness in a way that is liberating…Love love love it." ~ Love Bites & Silk Ties on Demon of Envy
"…a fresh angle and her writing style kept us turning the pages…her erotic descriptions are sensual. Passionate but gentle at the same time." ~ Quality Reads UK Book Club on Sex Club Secrets
Available at: