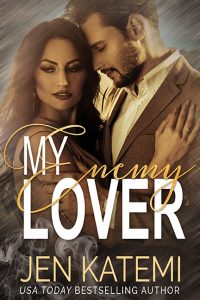 Hello everyone! I have a new release – or rather, a re-release! My older title, Heart's Destiny, has a lovely new cover designed by the talented Charmaine Ross, so it seemed opportune to give my steamy contemporary romance a new title and blurb.
If you haven't yet read the newly-named MY ENEMY LOVER, it's only 99 cents this week, and FREE in Kindle Unlimited.
Here's the blurb:
Why did I listen to that carnival gypsy?

Keep your enemies close, she said.

Open your heart and let him in anyway, she said.

Yeah, right.

Like that's going to happen. Ever since I discovered I was adopted and everything I knew got turned on its head, I don't have time for love.

And I definitely don't have time for this seductive game Kyan Ransom seems to have in mind.

The arrogant billionaire bad boy is the one person who wants Cavanagh Cottage more than me.

But he's not going to get it. Not if I can help it.

I need this place. It belonged to my family. And it holds the key to unlocking the secrets of my past.

Is it possible to love your enemy without destroying yourself in the process?

If that gypsy fortune-teller has her way, I might be about to find out.

A steamy, stand-alone billionaire romance with an alpha male hero, no cliff hanger and a guaranteed happy-ever-after ending.
CLICK HERE TO BUY FOR 99c USD AT AMAZON, OR READ FREE IN KINDLE UNLIMITED