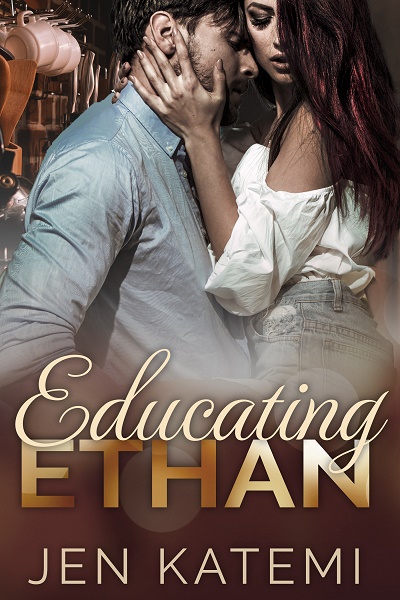 I love cover reveals, even when the book has been out for a little while already. I'm especially happy to show off my brand-new cover for EDUCATING ETHAN, as I've finally transitioned this steamy contemporary romance to my new author name, Jen Katemi.
This latest look is courtesy of the talented Megan at EmCat Designs. Isn't she clever?
If you haven't yet read EDUCATING ETHAN, it is available at Amazon, but now, for the first time in several years, it is also available at Apple iBooks, Kobo and Nook. I'm working to make all of my titles available widely, so please keep an eye out for other titles if you happen to prefer a non-Zon retailer!
When your heart has already been broken, is it possible to fall in love again?

Ida's new home-based catering business has helped her recover from a painful divorce. When the much younger Ethan moves in across the street, an innocent flirtation quickly becomes serious when the two realize their age difference is no barrier to all-consuming passion.

But Ethan is the exact opposite of everything Ida needs. He's young and vibrant, with his life and dreams still ahead of him, whereas hers are all in the past. Can Ethan, who is fighting his own demons in the form of a car accident, failed marriage and forced career change, convince Ida to overcome the past and live for the moment?

Or will this so-called "cougar" take what she needs and escape before her heart is broken for a second time?

Just who is educating who in this cougar encounter?

This sexy romance novella offers a guaranteed happy-for-now ending.
Want to read EDUCATING ETHAN? Get it here:
AMAZON US / AMAZON AU / AMAZON UK / AMAZON CA
For Kobo, Apple iBooks or Nook, please CLICK HERE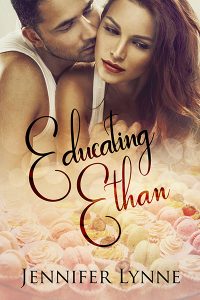 Reviews for EDUCATING ETHAN:
"…I just fell madly in love with Ethan and could eat him up with a spoon." ~ Long & Short Erotic Reviews 
"…If you love May/December romances, this one will knock your socks off." ~ Book Junkie
You may have seen a previous edition of EDUCATING ETHAN with a Jennifer Lynne cover… yes, it's the same sexy romance, but I'm so happy with my brand-new look featuring my new author name!
~~~
Want to stay up-to-date with Jen Katemi's writing news? Sign up for her email newsletter here.