I'm just popping in with a quick post to let you know my fabulous, exciting writing news. It's not often you can say you've ticked off a bucket list item, but yesterday, I did. Yesterday, I became a USA Today Bestselling Author!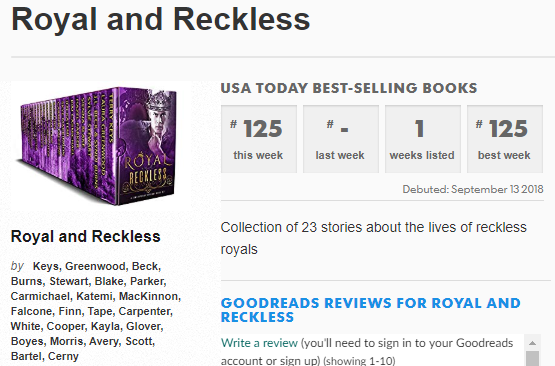 The Royal and Reckless Box Set that includes my title, Seducing Her Prince along with books by 22 other wonderful authors, officially hit USAT. I'm still in disbelief, but at the same time, I know how hard we all worked as a team to make this happen. We worked our butts off, actually. Going into the project I knew it was going to be hard, but I didn't realize quite how much work is involved behind the scenes in hitting a list like USAT.
And of course, we never could have made it without the support of our loyal followers and readers, so from the bottom of my heart, thank you, thank you, thank you!
In the aftermath, I walked around yesterday as if floating on air. Just to put things in perspective though… after the flurry of excitement and the announcement on Facebook, I raced off to my very ordinary day job in admin, took an asthmatic daughter to the doctors, and then drank my USAT champagne toast last night while on the phone to our bank to sort out some card issues. Definitely a roller-coaster kind of day, where writing and real life collided in a most unusual way.
I have quite a few writing projects that have been on hold while we worked on the Royal and Reckless set, but now (well, perhaps more realistically, next week – I'm still on cloud nine), I'll be getting back to those projects. If you'd like to stay abreast of my writing news and never miss a new release, please consider signing up for my email newsletter or following me on BookBub.
Again, to everyone who supported the Royal and Reckless Box Set in our list run, thank you!